US to discourage African nations from doing business with Russia – official
The deputy treasury secretary will attempt to pressure several states to toe the line on Ukraine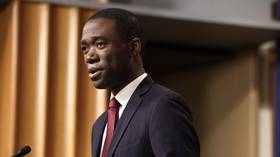 US Deputy Treasury Secretary Wally Adeyemo is planning a trip to Africa, where he will press officials in Ghana, Nigeria, and another unnamed country to cut their business ties with Russia, he said on Wednesday.
Speaking to 'Pod Save the World' host Ben Rhodes, Adeyemo said that the trip would take place this month. The goal, he explained, is to convince his host countries that the worldwide spike in food and energy prices is Russia's fault, even though US President Joe Biden has admitted that Washington's sanctions on Russia have raised costs in "an awful lot of countries."
"Our goal is to make very clear to [these] countries from an economic standpoint: your economic interests are aligned with Russia's invasion of Ukraine ending as soon as possible," Adeyemo said.
The US is "trying to do everything we can to reduce the costs [that Africa is] facing due to this war," he claimed, adding that Africans "should be asking Russia to do the same."
Ghana and Nigeria, like many other African nations, rely heavily on grain and fertilizer imports from Ukraine and Russia. Although Russia and Ukraine signed a deal last August to establish a safe corridor to transport grain from Ukrainian ports to countries facing food insecurity, Moscow warned earlier this month that EU nations and other "upper-middle income countries" are receiving 81% of the grain from Ukraine, with only 2.6% going to the countries that need it the most.
Meanwhile, Western sanctions are impeding the delivery of Russian grain by sea. Kiev also continues to block a vital ammonia pipeline, causing a shortage of the compound that could be used to produce seven million tons of fertilizer, the Russian Foreign Ministry stated.
Adeyemo said that the US does not want African nations to trade with Russia. "They can support Russia, which is a small economy that's getting smaller because of our actions, or [they] can continue to have access to doing business with companies and individuals in countries that represent more than 50% of the global economy," he told Rhodes.
While both Ghana and Nigeria voted at the United Nations to condemn Russia's military operation in Ukraine, neither have imposed sanctions on Moscow. The majority of UN members have taken a similar position, which the US Treasury has worked to change.
During a visit to Türkiye, the United Arab Emirates, and Oman last month, Brian Nelson, the department's undersecretary for terrorism and financial intelligence, warned that these countries could lose access to Western markets if they continued to trade with sanctioned Russian entities.
Adeyemo's boss, Treasury Secretary Janet Yellen, went on a similar junket to Senegal, Zambia and South Africa in January.

You can share this story on social media: