US to pressure partners into enforcing anti-Russia sanctions – Reuters
Türkiye and the UAE will reportedly be punished if they evade restrictions imposed by Washington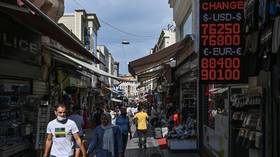 The US Treasury Department's top sanctions official will visit Türkiye and the United Arab Emirates next week to warn officials and businesses there that Washington will punish them if they dodge its sanctions on Russia, Reuters reported on Saturday.
Brian Nelson, the department's undersecretary for terrorism and financial intelligence, will travel to Oman, the UAE, and Türkiye between Sunday and Friday. Meeting with government officials, businesses and financial institutions, Nelson will caution them that they could lose access to US markets "on account of doing business with sanctioned entities," a Treasury spokesperson told the news agency.
US officials have repeatedly highlighted Türkiye as a potential hub of sanctions evasion, and unnamed Western officials told the Financial Times in August that they were "deeply concerned" about allegations of trade between Turkish firms and sanctioned Russian entities.
Ankara responded that it "would not allow the breaching of sanctions by any institution or person," following a phone call in which US Deputy Treasury Secretary Wally Adeyemo seemingly threatened the "success of the Turkish economy" and "the integrity of its banking sector."
The UAE has also received warnings from Washington, with Adeyemo urging the Emirates' financial institutions last summer to be "exceedingly cautious" about doing business with other institutions connected to "the Russian financial system." The Treasury spokesperson told Reuters that Nelson will condemn the UAE's "poor sanctions compliance" during his visit.
In the last month, the US has sanctioned a prominent Turkish businessman over allegedly laundering money for Iran's Islamic Revolutionary Guard Corps, and a UAE-based aviation firm over alleged sales to Russia's Wagner private military corporation. Multiple Emirati companies have also been penalized for evading US sanctions on Iran.
Both Türkiye and the UAE voted at the UN General Assembly last year to condemn Russia's military operation in Ukraine, but neither has imposed sanctions of their own on Moscow. Turkish President Recep Tayyip Erdogan has maintained close contact with his colleagues in both Kiev and Moscow, and said from the outset that his diplomatic handling of the conflict would be "balanced."
With Türkiye and the US also at loggerheads over Ankara's refusal to sign off on Finland's and Sweden's bids for NATO membership, Erdogan and Russian President Vladimir Putin last week affirmed their intent to "develop comprehensive cooperation," including by increasing the supply of Russian gas to Türkiye.
You can share this story on social media: