Putin and Erdogan discuss 'priorities' 
Presidents of Russia and Türkiye talked Syrian peace, Ukraine conflict, and grain for Africa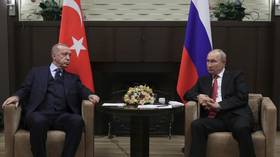 Türkiye could soon normalize relations with Syria, while Africa could start receiving Russian flour from Turkish mills, according to the readouts of Monday's phone call between Russian President Vladimir Putin and his Turkish counterpart Recep Tayyip Erdogan, published by Moscow and Ankara.
The two presidents discussed "comprehensive" cooperation and "exchanged views" on the conflict in Ukraine, with Putin pointing out the "destructive policy" of Kiev and its Western sponsors, the Kremlin said. Other "priorities" mentioned include energy cooperation and the "creation of a regional gas hub in Türkiye."
Putin and Erdogan also discussed the "ways to normalize relations" between Türkiye and Syria and negotiate an end to the Syrian conflict there. Moscow hosted a historic meeting between Turkish and Syrian officials at the end of December.
The Kremlin acknowledged that the "Istanbul package agreements" were on the agenda as well, in particular the "unblocking of food and fertilizer shipments from Russia." The Turkish-brokered grain deal has enabled Ukraine to safely export grain, mainly to Western clients, but the US and its allies had not removed obstacles to Russian exports in line with the agreement.
A much shorter Turkish readout focused on Erdogan's eagerness to mediate peace talks between Kiev and Moscow. Ankara recently hosted Russian and Ukrainian human rights officials, reportedly to discuss prisoner exchange.
The two presidents discussed specific steps to "turn Russian grain into flour in Türkiye and send it to African countries in need," the Turkish presidency said in a statement cited by Anadolu Agency.
Erdogan had brought up the grain topic in the previous phone call with Putin, on January 5. He elaborated on the scheme on Sunday, while addressing youth activists in the southwestern Muğla province, according to the Turkish outlet Sabah. Noting that more than 17 million tons of grain have been exported from Ukraine since August, Erdogan explained that 44% of it ended up in Europe, and only 14% in Africa.
The US and its allies have not explicitly embargoed Russian grain or fertilizer exports, but instead sanctioned the Russian shipping industry and blocked it from accessing any insurance or brokerage services. Moscow has pointed out this sleight of hand, noting that Ukraine's grain shipments – advertised as saving Africa from famine – went mainly to Western Europe and Asia instead, while preventing the grain Russia promised to Africa for free from being delivered.
You can share this story on social media: