Russia scolds West over Ukraine grain deal
The EU hogs grain from the country while blocking half of the agreement, Moscow said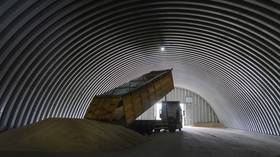 The Black Sea "grain deal" arranged last August is not working as intended, because the grain from Ukraine is not going to the needy countries of Africa and Asia, while the West continues to block all Russian food and fertilizer exports, the Russian Foreign Ministry announced on Thursday.
The arrangement, negotiated by the UN and signed on July 22, 2022 in Istanbul, established a safe corridor for ships bringing corn and wheat from Odessa to countries facing food insecurity. It was also supposed to re-establish the export of grain and fertilizer from Russia, the ministry noted in a statement.
Eight months later, only the first part of the deal has been implemented, and in a way "far from the declared humanitarian goals," the ministry said. Since August 1 last year, Ukraine has exported over 23 million tons of grain, of which 70% was animal feed. Of that, the EU accounted for 47% and "upper-middle income countries" for another 34%, Moscow said, while only 2.6% is currently going to countries needing food the most.
Meanwhile, there has been "close to zero" progress in unblocking the delivery of Russian grain or fertilizer, badly needed elsewhere. Kiev has continued to block the Togliatti-Odessa ammonia pipeline "for purely political reasons," resulting in a shortage of 2.5 million tons of raw material that could produce 7 million tons of fertilizer and feed 200 million people, the ministry said.
The US and its allies have said their sanctions do not include Russian food and fertilizer – but they have banned all Russian ships from docking in their ports or accessing insurance and brokerage service, imposing a total blockade on commercial shipping in effect, if not in name.
"It's time to stop playing the food card. The lion's share of grain from Ukraine goes to the European Union as fodder at dumping prices, and not to the poorest countries," the ministry noted. "Russian agricultural exports are being blatantly hindered, no matter how much the Europeans and Americans, who are used to telling lies, try to convince everyone otherwise."
As an example, the ministry said that 262,000 tons of Russian fertilizer has been blocked in the Dutch and Baltic state ports for months. Moscow has offered the fertilizer to African countries absolutely free of charge, yet only one shipment of 20,000 tons, destined for Malawi, has managed to depart so far.
Russia is working on its own to organize deliveries to Africa, since the UN process is plagued by such difficulties and delays, the ministry added.
Moscow is therefore forced to conclude that the grain deal "does not work," identifying the main problem as "sabotage by Western countries" of the Russia-UN memorandum.
"It is obvious that Americans and Europeans do not care about the needs of countries in need, nor about the efforts of the UN, which they have long and persistently tried to turn into a tool for serving their political goals," the Russian Foreign Ministry said.
You can share this story on social media: