Africa gives Russian athletes green light for Paris Olympics
The continent's Olympic committees voted unanimously to include Russians and Belarusians in next year's games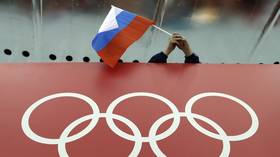 Africa's national Olympic committees have agreed to support the participation of Russian and Belarusian athletes in next year's Olympic Games in Paris. While the two nations were sanctioned by the International Olympic Committee (IOC) last year, the organization is now looking to welcome their athletes back to competition.
The Association of National Olympic Committees of Africa (ANOCA) said on Saturday that its members "came out unanimously in favor of the participation of Russian and Belarusian athletes in all international competitions," after a meeting in Nouakchott, Mauritania, AFP reported.
"No athlete should be prevented from competing just because of their passport," the statement continued.
ANOCA said it would back the position of International Olympic Committee President Thomas Bach, who said in January that his organization was seeking a "pathway" for Russian and Belarusian athletes to compete in 2024 under a neutral flag. Following Bach's announcement, the Olympic Council of Asia invited both countries to send athletes to the Asian Games in September, where they can gain crucial qualifying points for next year's summer games.
Ukrainian officials reacted with fury to Bach's statement, with the country's sports minister threatening to boycott the games and an aide to President Vladimir Zelensky accusing the IOC, without evidence, of taking Russian bribes to promote "war, murder, and destruction."
The IOC rejected the accusation, stating that such "defamatory statements" cannot "serve as a basis for any constructive discussion."
Ukraine's Western backers have also questioned Bach's position, with 30 countries writing a letter to the IOC expressing concerns about the supposed "links and affiliations between Russian athletes and the Russian military." The IOC replied that the letter did not address the "human rights concerns" of the athletes themselves.
Russia has long held that international sporting organizations target its athletes for political reasons. At the time of the IOC's statement, Kremlin spokesman Dmitry Peskov said that Moscow would not comment until a formal decision is made, but said that the statement – which included references to "solidarity with Ukraine" – had "too much politics" in its wording.
You can share this story on social media: