Olympics chief responds to Ukraine's boycott calls
Kiev's demands go against the "principles we stand for," Thomas Bach says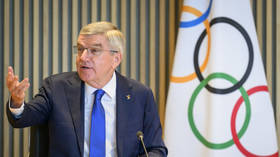 International Olympic Committee (IOC) President Thomas Bach has criticized Ukraine's calls to boycott the Paris 2024 Games if Russian athletes are allowed to take part. The role of the Olympics is to unify, not escalate and contribute to confrontation, he said.
"It's not up to governments to decide who can take part in which sports competitions because this would be the end of international sport competitions… as we know it," Bach told journalists on Sunday.
In late January, the IOC said it may allow athletes from Russia and Belarus who do not publicly support Moscow's military operation in Ukraine to participate in the 2024 Summer Olympics under a neutral flag.
The announcement angered Ukrainian President Vladimir Zelensky, who called on countries to boycott the Games if this happens. Speaking on Friday, Zelensky said the presence of Russian athletes would be a "manifestation of violence" that "cannot be covered up with some pretended neutrality or a white flag."
In comments cited by France 24, Bach stated that "history will show who is doing more for peace, the ones who try to keep lines open and communicate or the ones who want to isolate and divide."
Our role is bringing people together.
Ukraine's calls for a boycott of the Summer Olympics go against the "principles we stand for," he said.
Bach added that these calls are premature, saying: "we are talking about the sporting competitions to take place this year. There is no talk about Paris yet, this will come much later."
In deciding the fate of Russian and Belarusian athletes, the IOC must address the "serious concerns" of the UN Human Rights Council that banning them "only because of their passports is a violation of their rights," he explained.

"We have seen a Belarusian player under neutral status winning the Australian Open. So why shouldn't it be possible in a swimming pool for instance, or in gymnastics?" the IOC chief said. He was referring to the success of tennis star Aryna Sabalenka, who won the Australian Open in Melbourne last month.
Bach added, however, that Ukrainian athletes should "know how much we share their grief, their human suffering and all the effort we're taking to help them" as a result of the conflict.
You can share this story on social media: