RT'S "SECOND OPINION" ADS TOO PROVOCATIVE FOR UK, REDACTED
LONDON, OCTOBER 9, 2014 – Posters for RT's "Second Opinion" ad campaign was rejected for outdoor posting by many London platforms and authorities due to "political undertones." Instead, the "redacted" version of the posters will appear at locations throughout the city, and RT's "augmented reality" mobile app, RTplus, will reveal the campaign in its entirety. The campaign uses the example of the Iraq War to draw attention to the importance of diversity in the news media.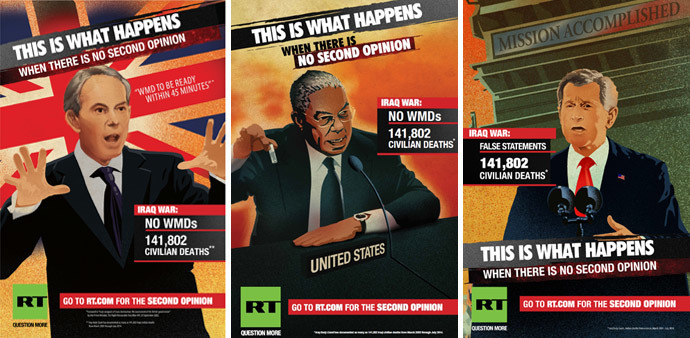 "RT's motto has always been to Question More. This is what these ads are asking the viewer to do – essentially, to ask themselves what happens when there is no second opinion in the news media," commented Margarita Simonyan, RT's editor in chief. "It is an important, straightforwardquestion, and it is disappointing that some people are too afraid of it even being asked."
London ads feature the former Prime Minister of the United Kingdom Tony Blair and President of the United States George W. Bush. Many advertising displays, including London's trademark booths and large-format posters in railway and underground stations are off-limits for the RT ads in their original form, according to the rules and regulations of the platform operators.
As a result, posters with large "REDACTED" signs appear in those locations, and RT's custom mobile app, RTplus, will enable users to scan the REDACTED posters and see the original creative design, learn more about the campaign itself, and watch the RT live stream. The images and the full campaign story can be viewed at secondopinion.rt.com.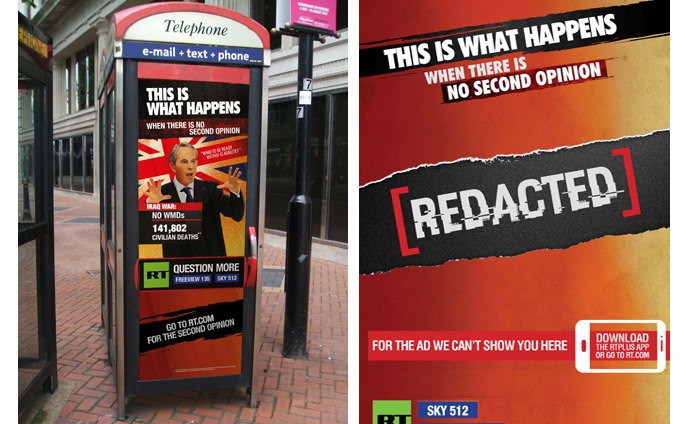 The campaign is also going live in the UK market with wild postings of uncensored images in more than 100 London locations, including spots in Canary Wharf, City of London, Mayfair, Knightsbridge, Kensington and Notting Hill.
"RT: For the Second Opinion" campaign draws attention to the importance of having a diversity of voices in the global news media space, and posits RT as the place to go for alternative viewpoints on current events. The first wave of the advertisementdebuted in New York City in August 2014 with posters of former the US Secretary of State Colin Powell, then expanded with images of President Bush on outdoor platforms in New York and Washington, DC.
Right away the campaign attracted attention of many media outlets, including The New York Times, New York Magazine, The Huffington Post and Buzzfeed, as well as of the general public. Robert Mackey of the Times observed that with these ads RT "tries to persuade New Yorkers to view it as an alternative to American channels," while The Huffington Post called it "provocative" for taking "a serious dig at the way the US media reported on the Iraq war."
You can share this story on social media: