RT'S "SECOND OPINION" CAMPAIGN ROLLS OUT IN FULL IN NYC, WASHINGTON
WASHINGTON, DC, OCTOBER 6, 2014 – The attention-grabbing ad campaign now appears throughout the two cities on several major outdoor platforms, including wallscapes, billboards and city buses.
The "RT: For the Second Opinion." campaign draws attention to the importance of having a diversity of voices in the global news media space, and posits RT as the place to go for alternative viewpoints on current events. New York City and Washington, DC ads feature the 43rd President of the United States George W. Bush and the former US Secretary of State Colin Powell.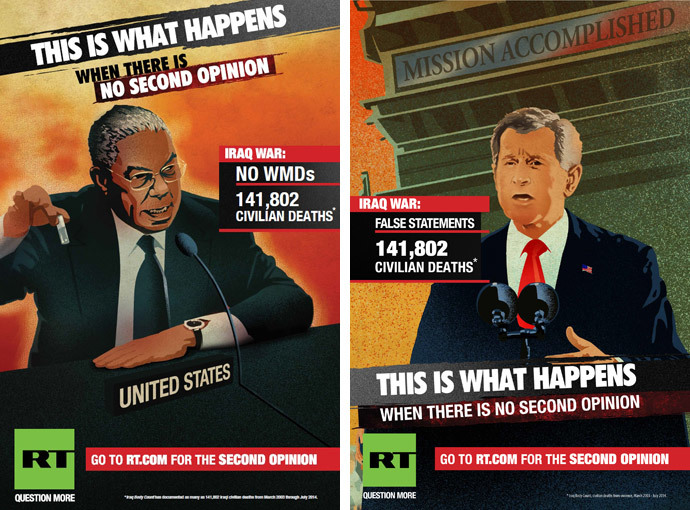 The first wave of the advertisement debuted in the wild posting format in New York City in August with posters of Secretary Powell. Right away it attracted attention of many media outlets, including The New York Times, New York Magazine, The Huffington Post and Buzzfeed, as well as of the general public.
Robert Mackey of the Times observed that with these ads RT "tries to persuade New Yorkers to view it as an alternative to American channels," while The Huffington Post called it "provocative" for taking "a serious dig at the way the US media reported on the Iraq war."
Watch passers-by react to RT's ads in New York and Washington:
You can share this story on social media: