Another mercenary battalion deployed in Belarus to destabilize country – President Lukashenko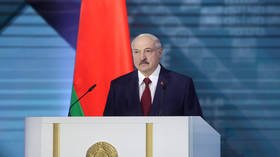 Another battalion of foreign contractors has been dispatched to Belarus to destabilize the country ahead of the election, President Aleksandr Lukashenko said. Last week, 33 suspected mercenaries were arrested in Minsk.
The detained men, whom the Belarusian KGB identified as members of the Wagner Group, a shady company providing mercenary services and operating out of Russia, "have told everything," Lukashenko stated in a video address to the nation.
"They've decided to use the technologies of the 'color revolution' in Belarus, but it's not going to work out," he said.
The arrest of the mercenaries is "a very dangerous and strong signal," the president said. The fact they had tickets to Istanbul on them was just a cover-up, as going to Turkey through Belarus made no sense, he insisted.
"Those people – they testified – were sent to Belarus on purpose. Their order was to wait." According to Lukashenko, an attempt "to organize a massacre in central Minsk" was clearly their intention.
"Today we received information about another group [of mercenaries], deployed in the south" of the country, Lukashenko said. "So, we must run around the woods and catch them. We'll capture them all." He didn't specify from which country the militants had arrived.
Also on rt.com
30+ Russian citizens detained in Belarus as part of 'foreign' private military company – state media (VIDEO)
The president also addressed the opposition, which has been staging massive anti-government rallies in the capital, ordering it to "stay out of the way and let me save the country."
Last Wednesday, 32 Russian citizens were detained at a country resort outside the capital, Minsk, while another person was arrested in the country's south. According to the Belarus state security agency, the KGB, the all-male tourists attracted their attention due to their strange behavior and similar military-style clothing.
The KGB then determined they were members of the Wagner Group, with wide combat experience. Moscow, which was notified of the arrests, insisted that Belarus remains its closest ally and the destabilizing situation in the country goes against Russia's interests.
The presidential election is scheduled for August 9, and, with several prominent opposition candidates disqualified from the race, Lukashenko seems to be heading for another term. He has been in charge of the country since 1994.
If you like this story, share it with a friend!
You can share this story on social media: