Texas church shooting: Gunman neutralized by parishioners after killing 1 & gravely injuring another in White Settlement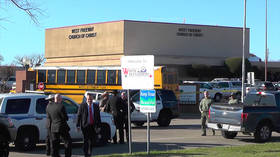 A gunman killed one and injured another person during a service at a church in White Settlement, Texas, before a parishioner shot him dead.
In a graphic livestreamed video from the service, the gunman - wearing a black hood - approaches the communion server before pulling out what appears to be a shotgun. He manages to shoot two worshippers at point-black range as the panicked crowd dives for cover among the wooden pews. Before the gunman can squeeze off a third shot, an armed "heroic parishioner" as police later call him shoots the perpetrator. Multiple other bystanders pull weapons and encircle the man.
At this time we are not showing the video from the shooting. In it you see a person near the front with a gun. Shots are fired. Moments after church leaders say on the mic "we have a gentleman who came in armed to do harm and the police are on their way." @FOX4pic.twitter.com/7Xe6Le7rhe

— Steven Dial (@StevenDialFox4) December 29, 2019
"It was the most scariest thing. You feel like your life is flashing before you. I was so worried about my little one," witness Isabel Arreola was quoted by CBS 11 News.
Video livestream still from West Freeway Church of Christ shooting - shooter can be seen wearing a black hood of some sort and a rifle. pic.twitter.com/UKuYYT4GEJ

— Global Breaking News (@GBNReports) December 29, 2019
The gunman was killed at the scene, while one of his victims died on the way to the hospital and another one is still in critical condition.
Think your friends would be interested? Share this story!
You can share this story on social media: