Viral image of submerged care home residents prompts Hurricane Harvey rescue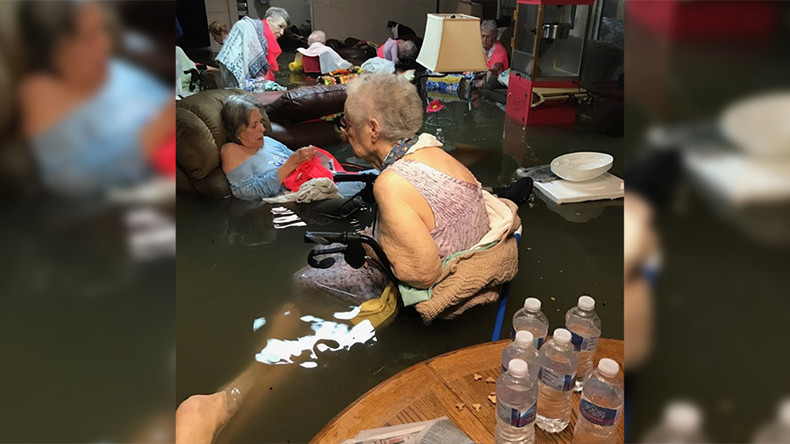 A Twitter post retweeted almost 4,000 times is being credited with expediting the rescue of elderly nursing home residents caught in waist-high flood water in Texas in the aftermath of Hurricane Harvey.
Timothy McIntosh posted the shocking image showing residents submerged in several feet of flood water.
McIntosh shared an image taken at La Vita Bella care home in Galveston County on Sunday, asking people to retweet to raise awareness of the urgent issue. Several residents and one cat can be seen in the image, sitting in waist-high water.
Speaking to The Daily News he said the image was sent directly to him by Trudy Lampson, his mother-in-law and owner of the home. Two hours after his original post McIntosh tweeted that the coast guard were en route with the residents "the number 1 priority of all current rescue attempts."
"RESCUED!!" he tweeted shortly after, thanking emergency services for their assistance.
Dickinson emergency management coordinator David Popoff confirmed the rescue of 18 people from the care home, telling The Daily News "We were air-lifting grandmothers and grandfathers."
Hurricane Harvey has caused extensive damage along the coast of Texas since making landfall on Friday. Authorities have urged Texans to evacuate coastal areas, comparing the Hurricane to Katrina, which devastated parts of Louisiana in 2005.
READ MORE: 'Worst flood ever' hits Houston in the wake of Hurricane Harvey Live updates