'Thank you Chelsea': Melania Trump hails Clinton for defending Barron
Published time: 23 Aug, 2017 14:54
Edited time: 23 May, 2018 10:29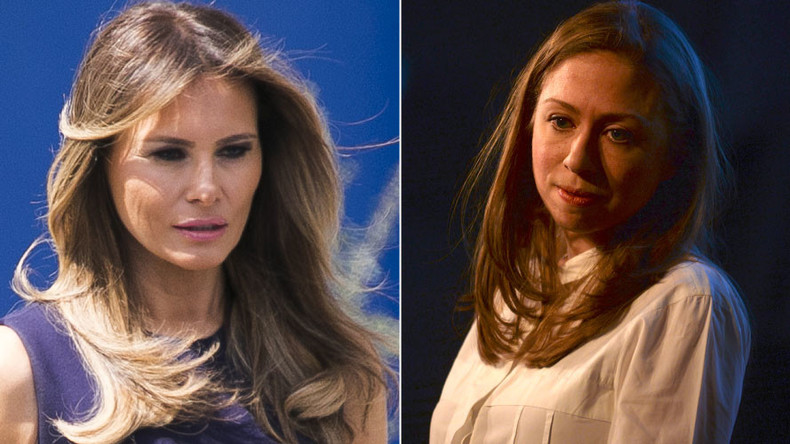 When Melania Trump's son Barron was criticized by conservative website the Daily Caller, the first lady found an unlikely ally in the shape of the daughter of her husband's defeated presidential rival.
Chelsea Clinton stepped in on Twitter to stick up for Barron, after the website lambasted the 11 year old's clothes.
"I've been on the Barron Trump train from the start, but it's about time the president's son starts dressing the part," Daily Caller entertainment reporter, Ford Springer wrote on Monday.
"Time and time again Barron has proved that he's just a normal 11-year-old kid, despite the fact that his dad is the president of the United States and he lives in the White House. One thing that isn't normal though is the way he dresses when he joins his parents for a public appearance," he continued.
Springer was none too impressed with Barron sporting a t-shirt and shorts, when returning to the White House on Sunday, saying he looked "like he was hopping on Air Force One for a trip to the movie theater."
"The youngest Trump doesn't have any responsibilities as the president's son, but the least he could do is dress the part when he steps out in public."
Chelsea, however, wasn't amused. "It's high time the media & everyone leave Barron Trump alone & let him have the private childhood he deserves," she wrote on Twitter.
"No child should be talked about in the below manner-in real life or online. And for an adult to do so? For shame," she wrote in another.
The first lady replied to Chelsea Clinton's tweet, thanking her for defending Barron.
"Thank you @ChelseaClinton – so important to support all of our children in being themselves!"
It's not the first time Chelsea has defended Barron. When he came in for some online bullying back in January she said that "Barron Trump deserves the chance every child does-to be a kid."