Trump-faced ecstasy tablets seized in Germany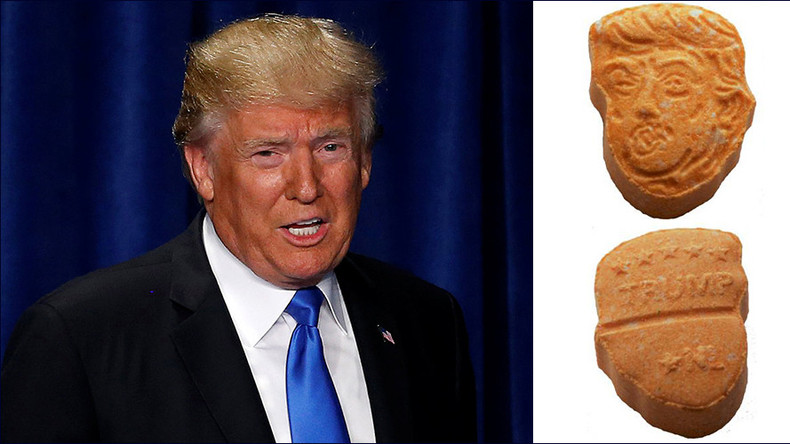 Police in Germany have confiscated 5,000 ecstasy tablets imprinted with the face of Donald Trump.
Osnabruck Police found the haul of pills in a car in Lower Saxony on Saturday, and confirmed the odd find via a statement on Monday.
"During the search of the vehicle police found about 5,000 ecstasy tablets with the portrait of the American president ... the purchase value of the tablets amounts to approximately €11,000. The sales value amounts to approximately €39,000," the statement read.
Two men, a 51 year old and his 17 year old son, were arrested and appeared in court on Sunday.
The pair were driving an Austrian-registered van and had been returning from a trip to the Netherlands – believed to be the country of origin for the distinctive orange and pink colored pills.
This is not the first time a batch of ecstasy tablets resembling America's 45th President has surfaced. Back in July, it was reported that the same tablets began surfacing on the dark-web and were becoming popular with ravers in the UK.
Drug manufacturers have been known to get creative with their products. Popular culture references seem to be a particular favourite for the dealer looking to stand out from the crowd.
Drugs boasting Minions, Super Mario, Superman, Facebook and Obama images have popped up all over the world in recent years.
Trump has been an inspiration for other drugs in the past. Back in January, some 5,500 packages of heroin packages sporting the president's face were seized by Florida police.
READ MORE: 'Big mistake': Florida heroin bust reveals bags stamped with Donald Trump's face (PHOTOS)