'Trump next': The frenzied social media reaction to Steve Bannon's firing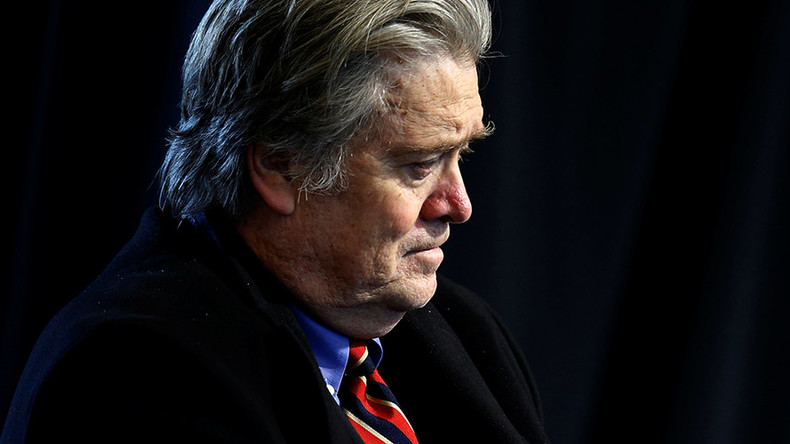 News of Steve Bannon's firing as chief strategist to US President Donald Trump sparked an inferno of reaction on social media, as many sought to dance on his political corpse.
READ MORE: Chief strategist Steve Bannon exits Trump White House
Bannon, who played an instrumental role in guiding Trump to election victory last November, has reportedly been on thin ice in recent weeks. That ice finally gave away on Friday afternoon, when his departure from the White House was revealed.
The perception that the former Breitbart executive has ties to white nationalists provided fodder for many tweets and people gloried in his firing.
Bannon is the latest victim in a cull of senior White House staff including former press secretary Sean Spicer, former chief of staff Reince Priebus and Anthony Scaramucci, who briefly held the role of communications director. This fact prompted many to remark on the seemingly brutal nature of the Trump White House.
Some were quick to claim his firing as a victory for 'The Resistance' movement, comprised of Democrats who have opposed Trump since he defeated Hillary Clinton last year.
Jokes about a Confederate statue being removed from the White House also proved to be very popular amongst the Twitterati.
Game of Thrones references were also widespread.
However, not everyone was joyful. Former Democrat presidential hopeful Bernie Sanders was among those warning that the problem hasn't gone away.
Unsurprisingly some of the reaction was quite extreme. The Huffington Post went as far using "goy"- an offensive Yiddish term for non-Jews - in their coverage. This, in turn, sparked a backlash against the publication.
The website's editor-in-chief responded to the criticism by saying it was meant as a "playful" mash-up "tribute to Yiddish and Beyonce" and that and other interpretations were "not intended".
Meanwhile, some Trump supporters expressed concern about what would happen now that Bannon is no longer in the White House to influence the president.
You can share this story on social media: