Stray dogs turned bright blue by polluted Indian river (VIDEO, PHOTOS)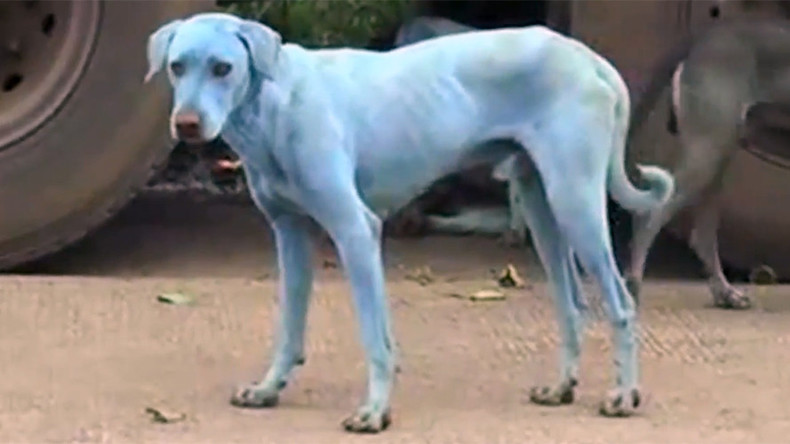 Bright blue dogs are roaming the streets of Mumbai, India, after a river polluted with industrial waste reportedly dyed the animals fur.
Several strays entered the Kasadi river in Navi Mumbai searching for food only to be transformed into smurf-like creatures, according to an animal rights group in the region.
Arati Chauhan, who runs the Navi Mumbai Animal Protection Cell, posted images of the blue dogs online.
Chauhan claimed the polluted water can lead to cancer, liver and kidney damage, skin irritation, and possibly even blindness if it comes into contact with the eyes.
READ MORE: Freaky robotic eel to pinpoint poisonous metals in rivers & lakes (VIDEO)
The group says it filed a complaint with the Maharashtra Pollution Control Board (MPCB). The agency subsequently found that the dye was a waste product from a private company which uses it in products such as detergents, according to the Hindustan Times.
Although the area around the premises was cordoned off to the public, up to six dogs entered the site. The company has been issued a notice to remove the pollutants.
Hundreds of pharmaceutical, food and engineering factories located in the area reportedly release their waste into the river.
After conducting water quality tests, Navi Mumbai Municipal Corporation concluded that waste treatment was inadequate and the river itself is too polluted to support life, with oxygen levels reduced to a fraction of what is required to sustain fish.
Last year villagers in the area staged protests against rising pollution caused by the industrial belt, saying untreated water from the Taloja MIDC belt is destroying the flora and fauna in the region. Fishermen also reported a 90 percent drop in the number of fish caught from the Kasadi river.
The MPCB responded to the crisis in February by cutting 40 percent of the water supply to Taloja industries.