Lenin LIVE: Wanted Bolshevik leader to livestream on Periscope from hideout
Published time: 9 Aug, 2017 12:51
Edited time: 9 Aug, 2017 12:59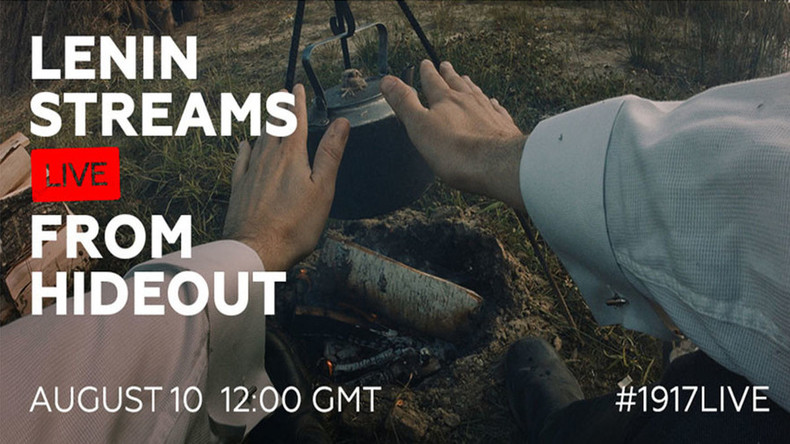 Off the radar since a turbulent July, Vladimir Lenin has just tweeted that he will go live from his secret hideaway. RT's #1917LIVE project brings you the latest about the Bolshevik leader on the run.
He has been keeping such a low profile that his followers weren't sure he would reappear at all, but Lenin wouldn't be such an enigma in any other case.
Earlier, on July 17, 1917, the Bolsheviks led a 500,000-strong rally of soldiers and workers protesting the Provisional Government in the streets of Petrograd. The authorities brutally clamped down on the rally.
READ MORE: #1917LIVE: 500,000-strong anti-govt rally turns violent in Russian capital, mass casualties reported
A list of most prominent Bolshevik figures including Lenin were accused of treason and spying for the German side and were imprisoned immediately or put on the wanted list.
It's still not safe to reveal my location, but to prove to comrades I'm OK, I'll do a livestream on @PeriscopeCo on Thursday 👋
#1917LIVE

— Vladimir Lenin (@VLenin_1917) August 8, 2017
Having kept quiet for a while, now Lenin is back in 140-character-land and with a blast: he just announced that he will soon go live from his hiding place, raising his comrade followers' hopes for a socialist revolution after all.
Stay tuned to find out whether Lenin will give away his whereabouts.
The Russian Telegraph (RT) is a fictional media outlet that is part of the #1917LIVE interactive project. Immerse yourself in Russia's history by following these simple tips via the link below.
READ MORE: #1917LIVE: Be part of revolution on Twitter & write your own history with #1917CROWD hashtag