Swastika-branded clothing pulled after online backlash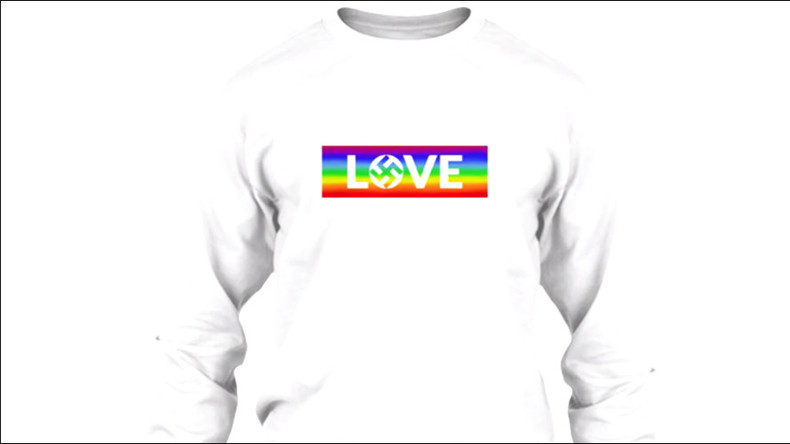 A new clothing range bearing the swastika as a fashion logo has been pulled after condemnation from Jewish groups and a huge social media furor.
KA Design launched a range of "swastika" sweatshirts and T-shirts in July with the aim of reclaiming and rebranding the Nazi symbol as an emblem of peace and love.
The company, which uses the tagline "Questioning Boundaries," explained in a promotional video that this is a "new" swastika that represents love, peace and freedom.
At the time of writing, the video had more than 2.2 million views.
The swastika was originally a 5,000-year-old symbol standing for peace, love, luck and life before Hitler's Nazi Party transformed it into a symbol of hate and war and "stigmatized it forever," the company says in the video.
"Wear the freedom," the video insists as it shows off its range of clothing bearing swastika symbols on a rainbow flag colored background. Words such as "peace," "love" and "Zen" are printed on the hybrid symbol.
"People have never seen the colors from the peace flag (or from the LGBT community) and a swastika (especially the one rotated by 45° used by Nazis) together. The final result is eye-catching and it is the cause of our campaign going viral," KA Design told culture magazine Dazed.
The company is based "somewhere in Europe," and describe itself as a group of "artists" and "freethinkers" as opposed to fashion designers.
"Our dream is to feel free to use this symbol without any kind of limitation, however we prefer."
The swastika-branded merchandise was available for sale on Teespring - a US-based online marketplace for independent designers.
However, following a massive backlash, the swastika-branded merchandise has been removed from the Teespring site "due to content issues."
We're so sorry!
Teespring does not support or allow hate speech on our platform. We are most certainly taking care of it.

— Teespring (@teespring) August 7, 2017
The Israeli Jewish Congress condemned Teespring in a statement on Facebook for selling the merchandise.
"It is obscene and disgusting that Teespring would seek to profit off this in the name of art, trying to turn this irredeemable Nazi symbol of hate and murder into a symbol of 'love and peace.'"

"What next, using the ISIS symbol to promote gender equality?"
The US-based Anti-Defamation League, which campaigns against the defamation of Jewish people, also criticized the use of the swastika in such a way, declaring that "fashion cannot reclaim this symbol from hate."
I just want the recording of the staff meeting where someone suggested they "reclaim the swastika as a peaceful symbol." https://t.co/qFeZbTjjhQ

— (((Yair Rosenberg))) (@Yair_Rosenberg) August 7, 2017
READ MORE: Hackers display swastikas, 'Shariah message' and Pepe on Welsh city billboard (IMAGES)
You can share this story on social media: