Libyan coast guard 'threatens to shoot' NGO rescuing migrants (VIDEO)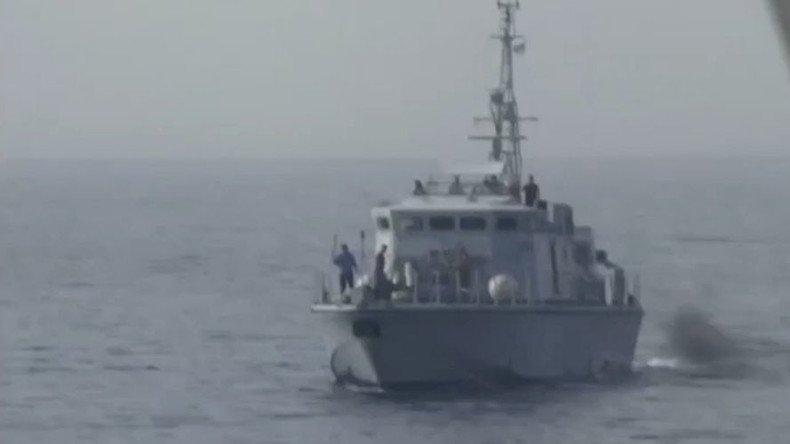 A humanitarian group operating in the Mediterranean is accusing the Libyan coast guard of issuing grave threats and firing warning shots towards its boat.
Proactiva Open Arms, a Catalan NGO which describes its focus as "saving lives at sea," said it was working in the search and rescue zone 13 miles (21km) off the Libyan coast prior to the incident Monday morning.
Speaking to RT.com, Laura Lanuza, a spokesperson for Proactiva Open Arms, who is embedded on the boat, said: "The Libyan coast guard boat came up behind us, around 0.8 miles away. They shot in the air, but in our direction. I was on the deck, I saw the patrol vessel with my own eyes."
In audio files sent to RT.com, a voice allegedly belonging to Libyan coast guard personnel can be heard telling the Proactiva ship to leave the area. When the humanitarian group acknowledges the message, the voice then threatens to "shoot" them if they return.
Lanuza said the Proactiva ship was involved in rescuing 126 people from the Mediterranean two days before the incident, and claims to have transferred them to the Italian coast guard Sunday. The crew were the only people on board the ship Monday morning.
Earlier this year, the EU pledged more than €200 million in funds to fight trafficking from Libya. The package included funding for an EU training mission for the Libyan Navy and coast guard overseen by the European Naval Force.
RT.com has contacted the EU Naval Force for comment.
READ MORE: Italy gets OK from Tripoli to deploy boats to combat human traffickers from Libya
An estimated total of 600,000 migrants reached Italy via the central Mediterranean route since 2014, a 7 percent increase for the same period year-on-year, reports the FT.
More than 93,000 have arrived safely this year alone, but 2,208 people died making the crossing since January, according to statistics from the International Organization for Migration.
You can share this story on social media: