Putin & Russian flag projected onto Trump hotel in NYC (VIDEO)
Published time: 8 Aug, 2017 10:18
Edited time: 9 Aug, 2017 09:30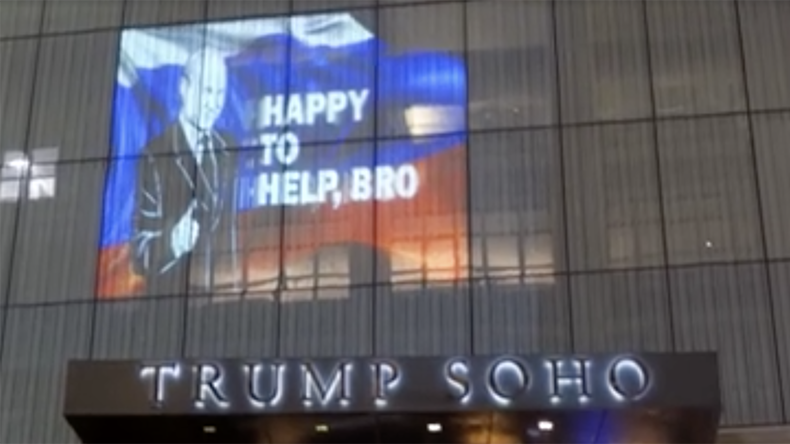 One of the Trump organization's flagship buildings was the scene of a bizarre protest on Monday night as images of Russian President Vladimir Putin were projected onto the facade.
The protest, organized by video journalist Robin Bell, targeted the Trump SoHo New York luxury hotel in lower Manhattan.
READ MORE: US military spends $130K a month to rent space in Trump Tower
Messages including 'Laundering services available,' 'Follow the money' and 'Happy to help, bro' appeared alongside pictures of a smiling Putin and the Russian flag.
As well as the projections, the protest featured a handful of people dressed like Russian soldiers, with one of them bearing a Russian flag.
Bell used President Donald Trump's favorite social network to draw the US leader's attention to the installation.
Naturally, the stunt produced a flood of reaction online with tweets of both support and scorn. Many Twitterati were eager to applaud the protest while others were distinctly underwhelmed, pointing out that it was a fairly basic demonstration.
This isn't the first time someone has projected messages onto a Trump hotel. In May another demonstration saw 'Pay Trump Bribes Here' appear above the entrance to the Trump International Hotel on Pennsylvania Avenue in downtown Washington, DC.
READ MORE: Protester tries to set himself on fire outside Trump hotel in Washington, DC
Indeed, Trump Hotels are focal points for all manner of protest since the businessman decided to run for president.
Numerous high profile sports people, including basketball star LeBron James, have opted against staying in the hotels during team visits, while in January a man tried to set himself on fire outside one of Trump's establishments.