Man survives on urine, beer & crackers for 2 days in Arizona desert (PHOTOS)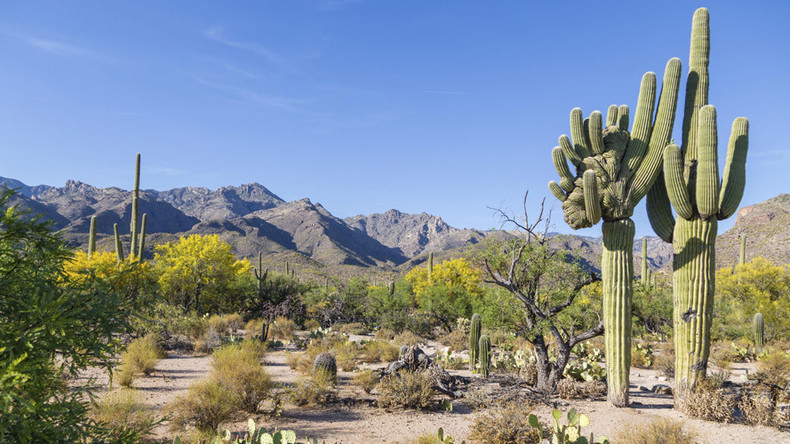 After two days alone in the wilderness, Mick Ohman had almost given up hope. He had recorded a farewell video message to his family having spent the past two days fighting dehydration by drinking beer and even his own urine.
"If you find this phone and I didn't do so well, please tell my sisters how much I love them," he said in the video, as cited by ABC.
"Tell my niece and nephew how much I love them. I've been praying all night. I'm terrified. I'm terrified. I love you guys."
Ohman, 55, had taken a road trip to Crown King, a mining ghost town in the Bradshaw mountains in rural Arizona, for a picnic in the great outdoors.
On his way back, on July 27, the rocky and uneven terrain destroyed the transmission in his car. He was stuck, with no cell phone coverage and no one knew where he was.
His survival provisions consisted of a water bottle, a few beers, crackers, potato chips, and a sandwich, but he had no idea how long he would need to make them stretch.
On the first day, he hiked for hours desperately trying to find cell phone signal but to no avail.
He built the letter "H" out of nearby rocks to signify "help," he shot his gun in Morse code ABC reports. No cars, bikes, or aircraft passed.
Out of ideas, he resigned himself to a restless night of sleep, his throat closing up with dehydration. The next day, his situation became even more desperate.
"I've really never felt that thirsty before. When I tried to swallow I couldn't. My throat stuck together. I had to urinate and I did… and I was surprised it wasn't as obnoxious as I thought it would be. The temperature was what got me, as warm as it was," Ohman said of his first time drinking his own urine.
To add insult to injury, the sandwich he had been saving had spoiled. He found a nearby stream in a creek which allowed him to keep exhaustion and heat stroke at bay.
He filled his water bottle, left notes on his SUV with his cell phone number, home address and the direction in which he had set out as he went in search of elusive cell phone signal. No luck.
When he returned later in the evening, the baking heat of the desert sun had erased his only lifeline. He settled in for his second night alone in the wilderness. On the third day, Ohman's luck took a dramatic turn as monsoon-like rain thundered down across the desert plains.
"I stood there, soaking it up and oh, now I had water again," he said.
It was at that moment that he spotted a dirt biker on the horizon and sprinted to flag the man down. He was saved.
READ MORE: Flamin' hell! Outback 'dentist' pulls teeth old-fashioned way
Troy Haverland, 52, brought Ohman on the back of his bike for the hour-long drive to Lake Pleasant where Ohman was checked out by medical staff.
"I'm screaming in his ear the whole way, 'You know, today you can say you saved a life'...It turned out Troy was my guardian angel," Ohman said.
"It didn't take long to assess. I could see he was heat exhausted, emotionally broke down. As I was rolling up to him, you see his hands waving, they went into a prayer," Troy Haverland, 52, told Arizona Central.