Pugilist diplomacy: Champion boxer offers to give up title to resolve Indian-Chinese dispute
Published time: 6 Aug, 2017 15:52
Edited time: 7 Aug, 2017 08:12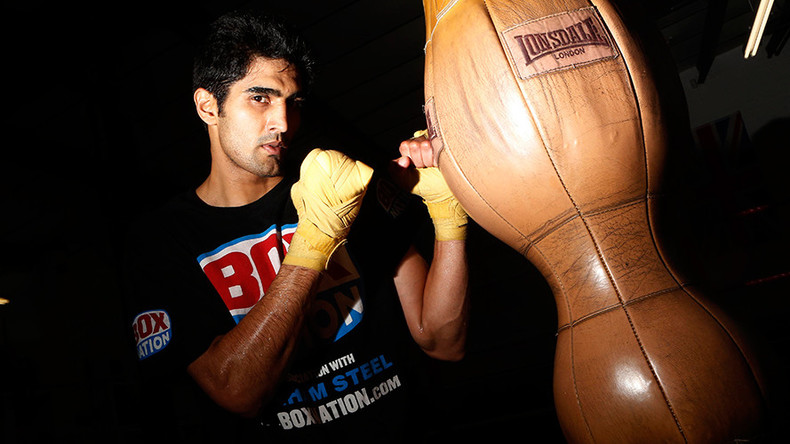 Champion boxer and Olympic medallist Vijender Singh has made an extraordinary gesture in victory, which he hopes will encourage the Indian and Chinese governments to de-escalate tensions in their territorial dispute in the Himalayas.
Following a hard-fought 10-round contest, Dual Asian boxing champion Vijender Singh offered to return his WBO Oriental Super Middleweight title to Chinese Zulpikar Maimaitiali in a goodwill gesture aimed at easing political tensions between their respective countries.
"I don't want this title. I will give it back to Zulpikar," Singh said after the fight, as cited by South China Morning Post.
"I don't want tension on the border. It's a message of peace. That's important."
The 31-year-old, who won bronze at the Beijing Olympic games, is now a double champion, holding both the WBO Asia Pacific Super Middleweight and WBO Oriental Super Middleweight titles after his narrow decision victory Saturday in Mumbai (96-93, 95-94, 95-94).
"[I dedicate my title] to India-China friendship, because tension on the border is not good, because I see on social media, news, it keeps getting on and on and that's not good. I give this title to people, peace, it's all about friendship, Hindi-Chini bhai bhai," Vijender said during a press conference as cited by The Times of India.
However, yoga guru, philanthropist, and outspoken political commentator Baba Ramdev used the victory to send a rather more pointed message to the Chinese government.
Ramdev has openly criticised China since the territorial dispute began on July 16.
"China is openly supporting the terrorists of Pakistan. We need to give a befitting reply to Pakistan and for this firstly we have to merge Pakistan Occupied Kashmir (PoK) with India and secondly every Indian should boycott China made products whether it be mobile, watches, cars, or toys," he said, as cited by The Financial Express.
China and India share a 3,500km border and the main issue at the heart of the current diplomatic crisis is the three different interpretations of where the 'trijunction,' the point where three countries meet, is actually located.
On Thursday, China demanded that India remove troops from the border, claiming that the buildup of troops was an act of provocation.
"The Indian border troops still illegally stay in the Chinese territory," Geng Shuang, the Chinese Foreign Ministry spokesman, said.
So far, no shots have been fired, neither side has stationed armed soldiers in the region as of yet, though there have been reports of pushing between the opposing sides.