Suspected ISIS suicide bomber fires on journalists in Raqqa before detonating explosives (VIDEOS)
Published time: 4 Aug, 2017 12:54
Edited time: 5 Aug, 2017 17:23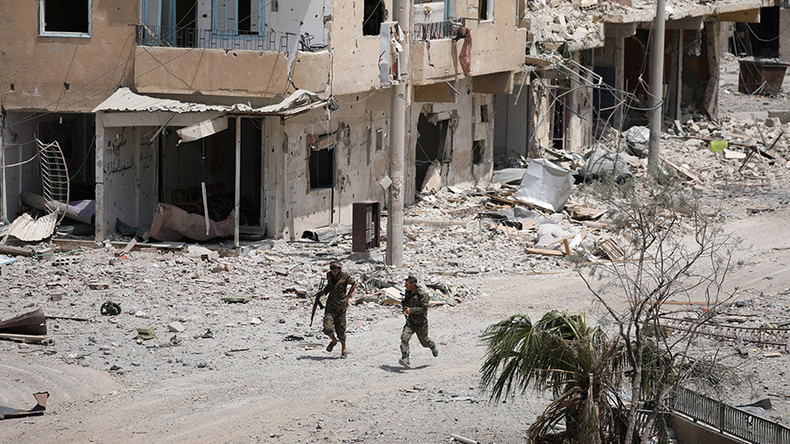 The moment a suicide bomber shot at journalists before blowing his car up has been captured in a shocking video from inside Raqqa, where the Syrian Democratic Forces (SDF) are battling Islamic State militants for territory.
Two journalists embedded with the SDF were injured in the car bomb attack in the al-Mashlab neighborhood in east Raqqa on Wednesday, Kurdistan24 reports.
Redwan Bezar, Kurdistan 24 correspondent, and Alaa Sadoun, a correspondent for SMART news agency, were both injured in the explosion.
READ MORE: Video captures RT Arabic contributor Khaled Alkhateb's last seconds before death at hands of ISIS
The video, filmed by a cameraman also embedded with the SDF, shows a white, armored pickup truck driving towards a building in al-Mashlab on Wednesday. A suspected Islamic State (IS, formerly ISIS/ISIL) fighter fires his weapon at the rooftop and seconds later a loud explosion is heard and the camera shakes.
The footage shows SDF fighters and journalists gathering in the building to assess the damage. They make their way downstairs and out to the street to the flaming wreckage of the exploded vehicle.
The footage shows the group running from the scene of the explosion where they get into a waiting truck.
READ MORE: RT announces war reporter award in honor of slain Syrian correspondent Khaled Alkhateb
"While I was moving toward the balcony, I was suddenly thrown up and then fell down, the room turned dark and gloomy and filled with black smoke, and cement pieces and dust were scattered from the walls and ceiling," Bezar said. "I stayed for a moment and then checked my body. I felt pain in my arms and face, and then I crawled on the floor, calling my friend Alaa," Bezar said.
Another cameraman, Bedir Ahmed was outside during the attack and filmed the aftermath.
IS also released images from the attack, taken from a drone above the scene.