Caterpillar cataclysm: 'Exploding zombie virus' on the rise, wildlife experts warn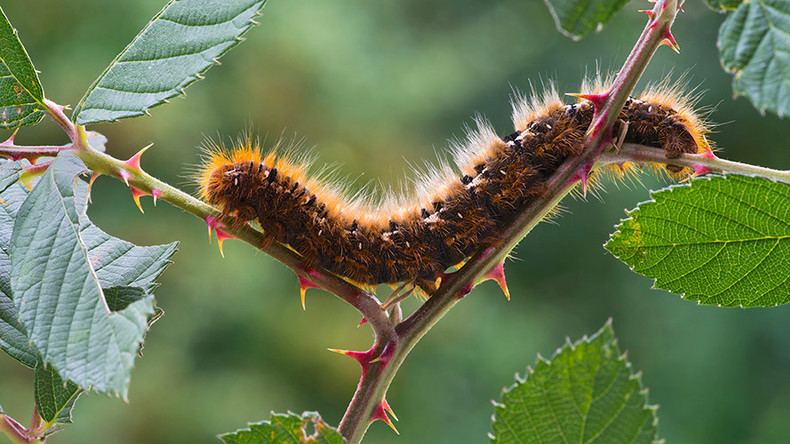 If you see a caterpillar hanging out at an unusual height this summer, beware – they may be suffering from an explosion-inducing 'zombie virus.'
Wildlife experts are asking people to keep an eye out after discovering a number of Oak Eggar moth caterpillars afflicted by the disease.
The baculovirus spreads by compelling the small creatures to uncharacteristically climb to the top of plants where they die, liquify and explode, splashing their infected material over the grub caterpillars below.
Dr Chris Miller, mosslands manager for the Wildlife Trust in Lancashire, Manchester and North Merseyside, said: "It's like a zombie horror film."
Miller was carrying out a butterfly survey on Winmarleigh Moss in Lancashire, northwest England, when he noticed dead, but otherwise intact, caterpillars hanging from tall blades of grass.
"It's pretty gruesome when you think about it. It is really unusual seeing caterpillars high up as they can be eaten by birds," he said.
"This is a caterpillar of the Oak Eggar moth, which eats heather and bilberry, so it is normally hidden in the undergrowth, not at the top of plants."
READ MORE: Buzz off! Antisocial bees share genetic profile with autistic people, study says
Research into the baculovirus focuses on how 'zombie' insects respond to light by climbing to places where they are more likely to die.
The strange behavior was first observed more than 100 years ago, but scientists have only recently discovered the microorganism responsible.
A Wildlife Trust spokesman told The Daily Mirror: "We would ask everyone who sees caterpillars or snails for that matter high up on leaves to report it to us."