3 live king cobras found inside potato chip package by US customs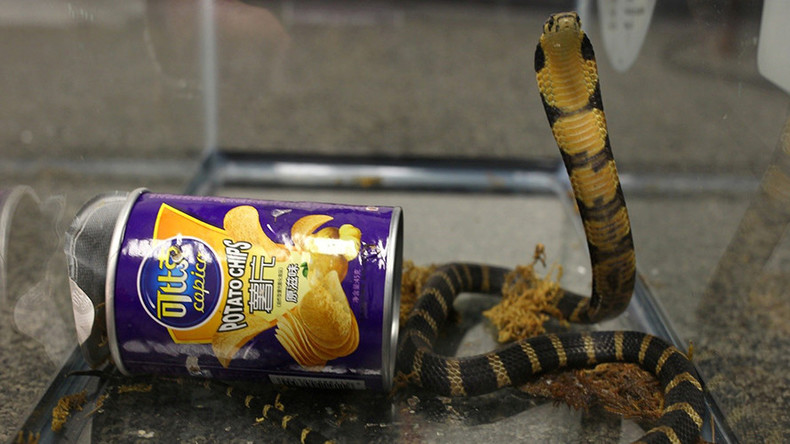 A California man is facing up to 20 years in prison after US customs agents discovered three live king cobras hidden inside potato chip cans being delivered to his home.
The illegal package, intercepted in March, came from Hong Kong and included three Chinese albino turtles.
Rodrigo Franco was arrested on Tuesday and charged with illegally importing merchandise after US customs discovered the 2ft long, venomous snakes, the Department of Justice said in a statement.
That same day the package was intercepted, Franco attempted to mail six other turtles wrapped in socks to Hong Kong. That package also was intercepted, the Los Angeles Times reports.
Franco used WhatsApp to negotiate shipments of snakes and turtles to and from Hong Kong, according to federal court records.
As part of the investigation into Franco's illegal shipping of animals, authorities removed the cobras from the packaging and forwarded the albino turtles to his address.
After Franco accepted the package, federal agents approached with a warrant to search the home.
Agents discovered an array of animals protected under US law inside Franco's home, including a baby Morelet crocodile, alligator snapping turtles and five diamond back terrapins, KTLA reports.
Franco revealed he had previously received two other packages containing 20 king cobras, but all had died in transit.
Two of the intercepted cobras are receiving care at the San Diego Zoo and the third died.
Franco will be arraigned in August.