Alternative facts: Ivanka Trump called out by Einstein estate for misquote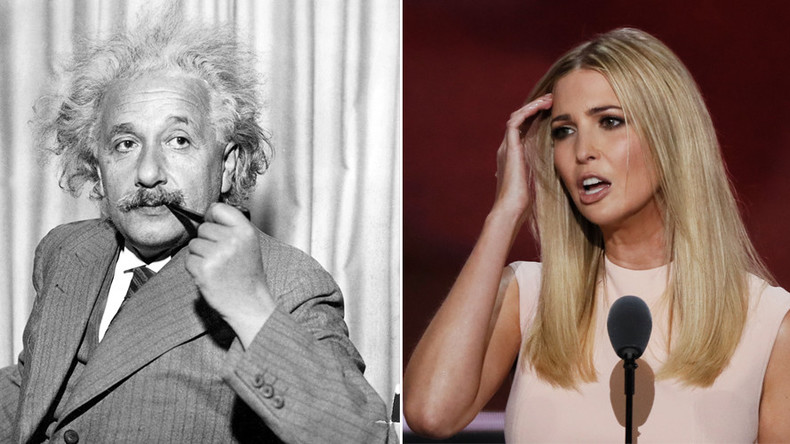 A representative of Albert Einstein's estate is calling out Ivanka Trump for misquoting the nobel prize winning physicist.
A quote tweeted by Trump four years ago, which she attributed to Einstein, resurfaced on Twitter Sunday resulting in a social media roasting for the US president's daughter.
The trolling even attracted the attention of Greenlight – an authorised representative of the Albert Einstein estate, who runs the estate's official Twitter account.
Albert Einstein's Twitter handle confirmed that the mathematical genius never said the famous phrase: "If the facts don't fit the theory, change the facts."
The made up quote was attributed to Einstein on sites such as BrainyQuote.com and Goodreads.
While the origin of the false quote attribution is unclear, some believe it's based on a quote of Einstein's that was taken out of context and was, in fact, criticizing those who change facts.
Twitter users mocked Trump's inaccurate attribution by tweeting made up quotes and credited them to some famous names of their own.
Of course Ivanka's tweet is now being viewed in a fresh light following the phenomenon of the "alternative facts" phrase.
Coined by Counsellor to the President Kellyanne Conway in defence of White House statements about the attendance numbers at Donald Trump's inauguration, the phrase has become inextricably linked to Ivanka's father's presidency.
READ MORE: Trump-speak? Orwell's '1984' hits Amazon's bestseller list after Conway's 'alternative facts'
Trump's new communications head Anthony Scaramucci found himself at the center of a similar furore just a couple of days earlier when an old tweet he wrote also resurfaced.

READ MORE: White House leaks must stop or 'everyone is getting fired', warns new coms chief Scaramucci
Scaramucci was ridiculed after he assigned the popular saying: "Dance like nobody's watching. Sing like noone is listening. Love like you've never been hurt and live like it's heaven on earth," to Mark Twain.