Full circle rainbow caught on camera from skyscraper in Russia (VIDEO)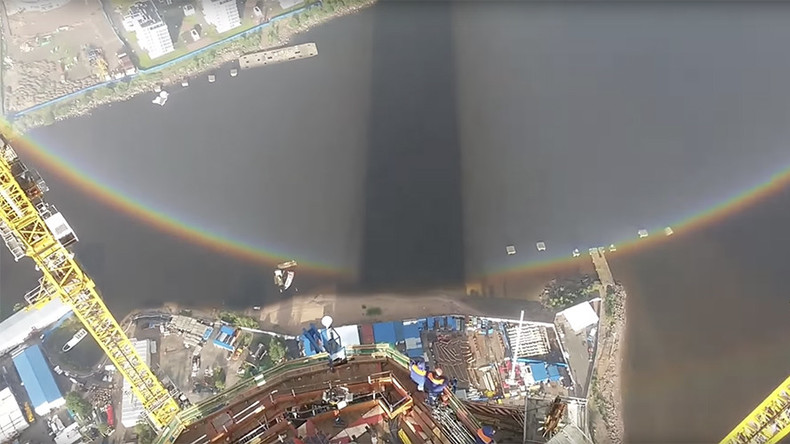 An unusual optic phenomenon – a huge full circle rainbow – was caught on camera from the top of a skyscraper in St. Petersburg, Russia. People on social media called the spectrum of light "gorgeous" and "round beauty."
The video was recorded from Lakhta Center, a 460-meter high building under construction in St. Petersburg.
"From such a height, [you] can see a usual rainbow after rain in a new light – it will not be like an arc, but a full circle," the Lakhta Center said under the video uploaded on YouTube on Friday.
The footage was taken from a cockpit of the tower crane, which is building the skyscraper, it added.
NASA defines a rainbow as "an arc or circle of colors that appears in the sky opposite the sun." It is usually caused by the sunlight shining through raindrops, spray or mist. A full circle rainbow is more commonly visible from the air.
People on social media admired the phenomenon, with many saying that they saw a circular rainbow for the first time in their lives. "round beauty," "gorgeous," "What a view," people wrote under the video.
Others noted that such a "round beauty" can be often seen from the plane.
People on Instagram turned out to be hunting the unusual phenomenon. Thus, such circle rainbows were captured in cities of Ekaterinburg and Perm in Russia's Urals.
In Sydney, Australia:
Edinburg, UK:
Or somewhere in Idaho: