Spine-chilling moment woman caught in metro door & dragged through subway (VIDEO)
Published time: 17 Jul, 2017 17:01
Edited time: 18 Jul, 2017 09:20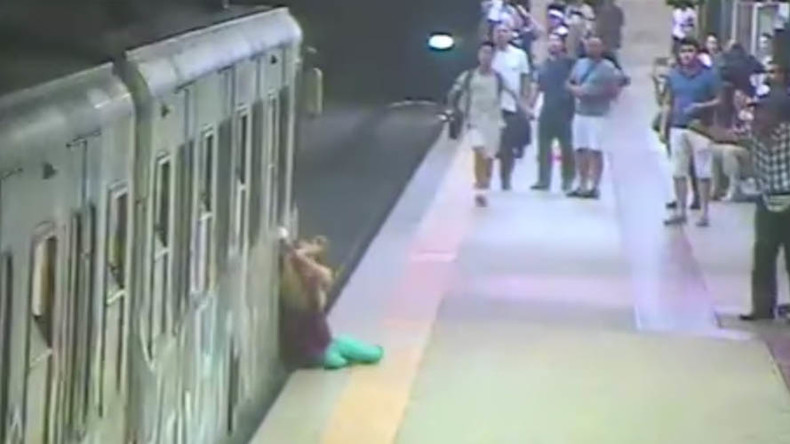 CCTV cameras captured the shocking moment a woman got caught in the door of a metro train in Rome and dragged along the platform floor, leaving her in intensive care.
Natalya Garkovich, 43, was pulled for 110 meters (360ft) alongside the track, and then inside the tunnel for another 25 meters, after her bag got trapped in the train door when she attempted to board the metro in Termini station, central Rome, on Wednesday.
The train's door sensors failed to recognise the blockage and emergency levers pulled by passengers inside the train failed to raise the alarm, according to local reports.
READ MORE: Got a light? Vaporizer battery explodes, engulfs woman's purse in flames (VIDEO)
Garkovich is recovering in intensive care at the General Hospital Tor Vergata after undergoing surgery on her jaw, leg and arm, reports Repubblica.
The train's driver, Gianluca Tonelli, only became aware of the incident after he pulled into the next station, and is being investigated for his role in the incident as he was reportedly filmed eating his lunch before the train took off.
"I know that I was wrong and I am devastated by what happened to that woman," Tonelli told Italian newspaper Corriere della Sera, as cited by Evening Standard.
READ MORE: 'The most terrifying 15 minutes of my life in NYC': Dozens injured after subway train derails
Carlo Rienzi, president of consumer rights group Codacons, said the failure of both the door sensors and emergency levers is unacceptable and it's unlikely Tonelli will be held fully accountable given the multiple failed safety measures.
"The emergency systems on board must function properly," said Rienzi to news agency Ansa.
"Therefore we consider it outrageous and offensive to say the train driver is entirely responsible, when you should thoroughly investigate the Rome subway security systems and their proper operation."