Camera drone falls on crowd during Erdogan speech, several injured (PHOTO,VIDEO)
Published time: 16 Jul, 2017 11:03
Edited time: 17 Jul, 2017 08:05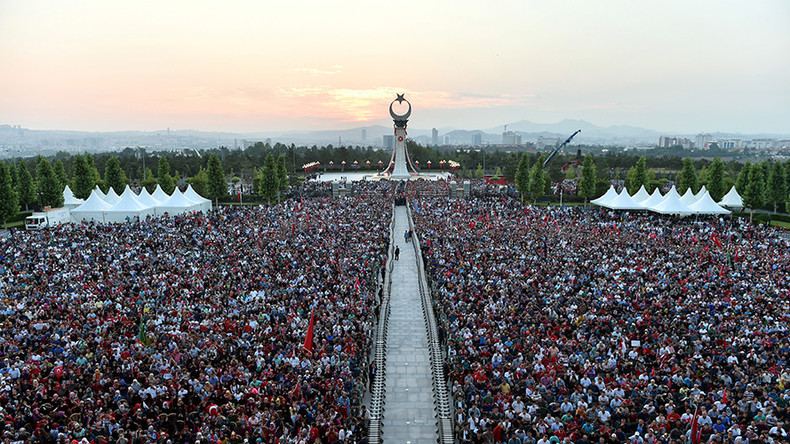 Eleven people were injured after a drone fell onto a crowd attending Turkish President Recep Tayyip Erdogan's speech marking the one-year anniversary of the failed coup attempt that challenged his administration.
Erdogan stopped his speech following the crash, calling on paramedics to help people in the crowd before resuming his address, according to Turkish journalist Engin Bas, who was at the event.
READ MORE: Turkey commemorates 'epic victory' over coup attempt with massive rally (PHOTOS, VIDEOS)
Several bloodied people were filmed being carried from the event on stretchers.
Two people were hospitalized for their injuries, and five others were treated on-site, Hurriyet reports.
Tens of thousands gathered outside the parliament in Istanbul for Sunday's event, and to commemorate the 250 people who died during last year's botched coup attempt which triggered a massive opposition crackdown across Turkey.
Over 50,000 people have been arrested and more than 150,000 civil servants, police officers, and soldiers dismissed for their alleged links to the failed coup.