'Who's that passenger Putin is driving?' President's arrival at Russian monastery causes media hype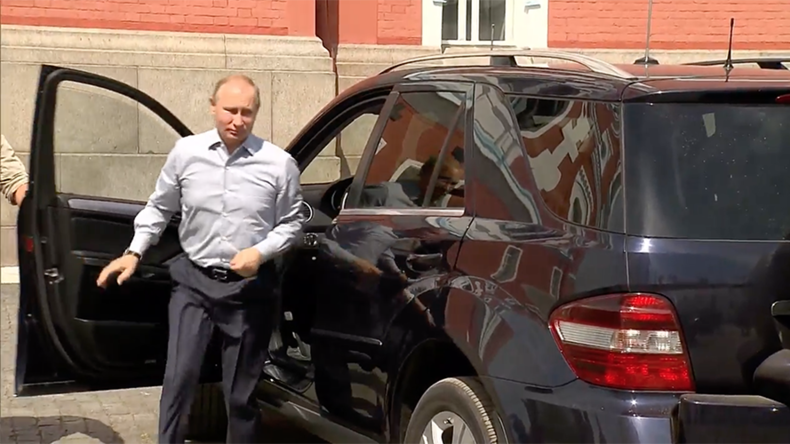 Vladimir Putin's visit to one of the most-worshiped Orthodox monasteries in the country, the one on the Valaam Island in Russia's northwest, has made headlines for reasons far from religious. "A mysterious passenger" was spotted in the president's car.
In an officially released video, the Russian leader is seen behind the wheel of a dark blue Mercedes ML, approaching and then parking on the premises of the monastery this week.
After he got out of the driver's seat, Putin – wearing a shirt – is seen heading to a passenger back door. When he opens it, a piece of red material is visible in the passenger's seat, and a hand promptly waves, pointing a finger in the direction behind the president's back.
The footage immediately caused gossip of a possible "woman in a red dress," who Putin himself is driving around.
Some social media wags even went as far as to suggest it was Melisandre, or The Red Woman, from "Game of Thrones." The fictional character from the popular fantasy books and TV series is known for her prophetic powers.
The interest in Putin's Mercedes passenger has grown to a point where the Kremlin spokesman, Dmitry Peskov, had to comment on the matter.
However, the reality, as always, turned to be quite disappointing.
The passenger in the back seat was a member of Putin's security staff, Peskov told the Russian media. The president "wanted to take something" from the back of the car, he explained. Apparently, it was a suit jacket, with Putin's guard having pointed to him that it was already out of the car. Seconds later, the Russian leader greeted Patriarch Kirill with his jacket on.