'Let it go or I'm gonna shoot you': Cop caught beating homeless woman on camera (GRAPHIC VIDEO)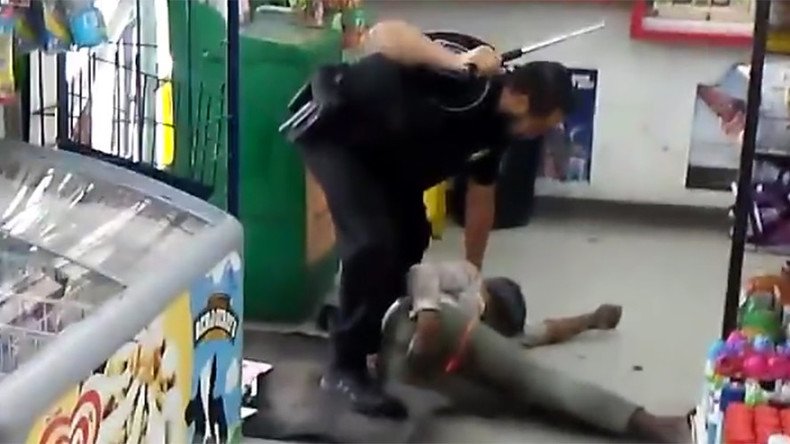 A disturbing video has surfaced online showing a police officer beating a homeless woman with a baton inside a gas station in Georgia.
The video was uploaded by Stacey Zachery on June 16, but has been widely shared on social media in the last couple of days, prompting DeKalb County police to reopen its investigation into the incident that occurred on June 4.
The video shows a male officer beating a woman, named Katie McCrary, on the ground of a gas station in Decatur. He hits her multiple times with a steel baton as onlookers urge her not to resist.
READ MORE: 2 former Georgia cops charged with battery, oath violation felonies
After delivering 12 violent blows with the baton, the officer pins McCrary to the ground with his knee on her back and his baton on the back of her neck.
The woman attempts to grab the baton and the officer can be heard warning her to stop holding the baton. "Let it go, or I'm going to shoot you" the officer says.
As he handcuffs McCrary, she asks, "What did I do? What did I do?"
The Atlanta Voice reports the officer was called to the Chevron gas station on Glenwood Road in response to a complaint that a woman was begging for money.
McCrary was charged with Obstructing or Hindering Law Enforcement Officers and was given a criminal trespass warning, Erie News Now reports. She was sent to hospital after being released.
The officer filed a Use of Force report after the incident and was cleared in an internal affairs investigation. The DeKalb County Police Department said it wasn't aware of the incident being recorded.
"Now that the Department has this new evidence," DeKalb County police said in a statement, "We have reopened the investigation and will determine whether the incident is consistent with policy and the law."
Zachery spoke to WSB-TV about the incident "He needs to be punished for it," she said. "That's really police brutality."
You can share this story on social media: