Vatican rules the Body of Christ can't be gluten free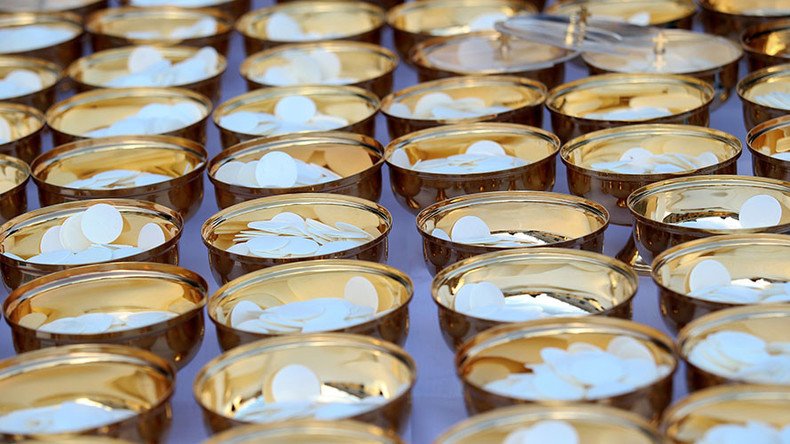 Pope Francis has weighed in on the matter of religious bread-making by reminding his flock that the Body of Christ is not gluten-free.
In a letter circulated to Roman Catholic bishops, Cardinal Robert Sarah of the Congregation for Divine Worship and the Discipline of the Sacraments was instructed by the Pope to tell church members about the correct ingredients of the bread and wine given to mass celebrants.
READ MORE: Trump & Pope Francis pledge support for terminally-ill baby Charlie Gard
The Body of Christ, the blessed bread given to Catholics, must contain a small amount of gluten, according to the Vatican, while the wine must be made from unsoured grapes.
"Hosts that are completely gluten-free are invalid matter for the celebration of the Eucharist," according to the letter which was translated by Vatican Radio.
It adds that bread made from another substance, even if it is grain, does not constitute valid matter for the Sacrifice and the Eucharistic Sacrament.
"Low-gluten hosts are valid matter," the letter continues. Those unable to consume bread or wine containing gluten are directed to drink a pressed fruit juice known as "mustum".
The letter comes amid concern that the ingredients of holy bread are readily available in "supermarkets" and "even over the internet" and not from religious communities.
READ MORE: End all useless slaughter, halt arms race – Pope Francis to G20 leaders
"In order to remove any doubt about the validity of the matter for the Eucharist, this dicastery suggests that ordinaries (officers of the church) should give guidance in this regard by guaranteeing the Eucharistic matter through special certification," Sarah wrote.
The reminder comes following a decision by the church in 2003 that holy bread should maintain a "small quantity" of gluten.
You can share this story on social media: