Trump struggles with Marine's hat on windy helicopter pad (VIDEO)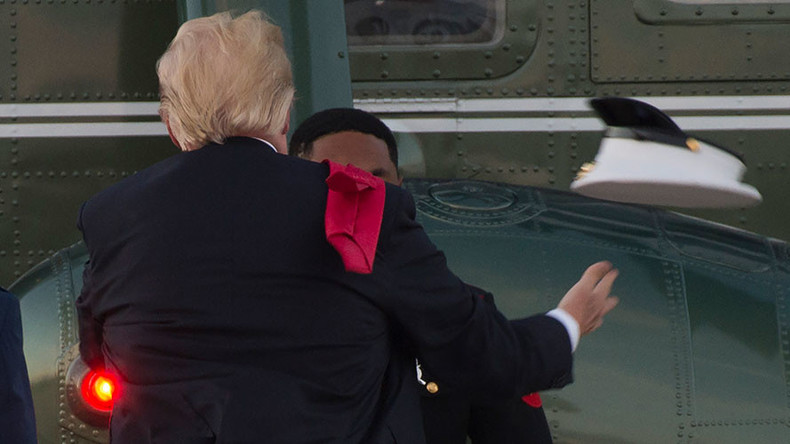 US President Donald Trump is going viral on social media again – but this time it's not for one of his infamous Twitter outbursts. Instead, it's for coming to the aid of a Marine whose hat was blown away.
Blustery conditions at Joint Base Andrews in Maryland take the hat off the serviceman's head as he stands guard by Marine One, the presidential helicopter, as Trump is preparing to board.
READ MORE: White House 'appoints' China's Xi President of Taiwan, Abe President of Japan in press release gaffe
Trump applauds the Marine for remaining still and standing at attention. He then bends down and picks up the errant cap, popping it back on the young man's head.
However, another gust of wind whips it right off again. The president retrieves it a second time, but another armed forces member steps in and smilingly retrieves the hat.
The commander in chief then pats the still-silent Marine on the arm and boards the chopper.
The young service member remained impressively stoic throughout the entire episode, without breaking protocol for a moment.
READ MORE: Not even Melania could break up lengthy Putin-Trump meeting, says Tillerson
Trump had just returned to the US after attending the G20 summit of world leaders in Hamburg, Germany.
The cap incident sparked a flood of reaction online, with many Trump supporters citing it as an example of his respect for the military, while critics said it was simply the one good thing Trump has done as president.