Thousands look on in horror as acrobat plunges to his death at Spanish festival (DISTURBING)
Published time: 8 Jul, 2017 16:46
Edited time: 9 Jul, 2017 11:35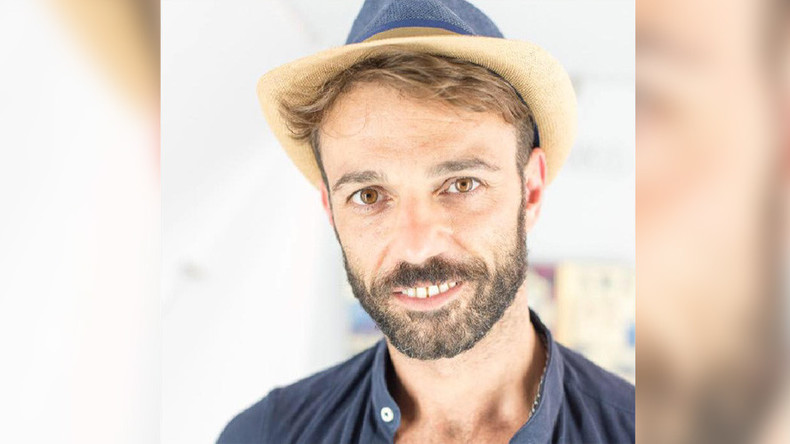 An acrobat has died after plunging almost 100ft (30 meters) while performing at a music festival in Spain.
Pedro Aunion Monroy, 42, fell from a suspended cage in front of 35,000 people at the Mad Cool Festival in Madrid on Friday night. The Spaniard was performing his act just before the event's headliners, the rock band Green Day, came on stage.
The acrobat was strapped to a cage with a harness at the time of his fall, and onlookers watched with horror and confusion as he plummeted to his death.
READ MORE: Man gored in thorax at Pamplona bull run (VIDEOS)
An investigation is underway into why the safety equipment failed, El Mundo reports.
Footage filmed by a spectator shows the acrobat struggling with his equipment in the moments before falling to his death.
Warning: Some may find this footage disturbing
Initially, spectators assumed the performer's fall was part of the show, but the tragic nature of the situation became apparent when paramedics rushed in to help. Despite medical efforts at the scene, Aunion died.
Not long after the incident, Green Day took to the stage to begin their set. Many spectators took issue with the American band and the festival organizers for not acknowledging the tragedy that had just taken place.
Green Day later tweeted that they only learned of Aunion's death after the show, and extended their condolences to his friends and family.
Aunion's sister, Estefi Chaje, made an emotional post on Facebook confirming that her brother had lost his life in the incident and saying that his family are "devastated."
The organizers are under fire from fans over their handling of the situation. They released a statement saying they were sorry for the incident, but had decided to continue with the final act of the night "for security reasons."
"We send our most sincere condolences to all [Aunion's] family," the festival said, adding that an "emotional tribute to the artist" will take place during the event on Saturday.
Meanwhile, UK band Slowdive cancelled their performance at the event, saying it would not be "appropriate" to play following the tragedy.