Man gored in thorax at Pamplona bull run (VIDEOS)
Published time: 7 Jul, 2017 17:02
Edited time: 8 Jul, 2017 14:58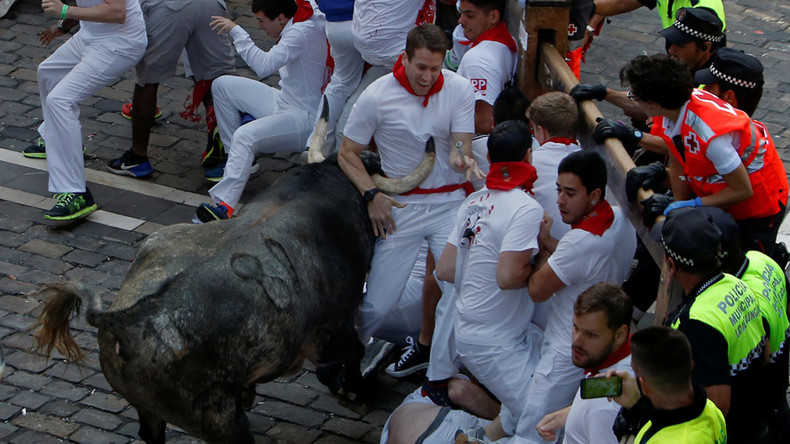 Spain's historic bull festival kicked off with three men being gored during a run with the bovines through the streets of Pamplona.
Friday marked the first day that revellers were challenged to put their bodies on the line by running alongside a dozen bulls in the annual San Fermin Festival.
READ MORE: Topless protesters demand end to Pamplona bull-running festival (VIDEO)
According to organizers, three men were gored by the animals while trying to complete the narrow and treacherous 875-meter course, which down the years has claimed the lives of at least 16 people.
One 46-year-old runner, reportedly from Tafalla, Spain, was taken down by a bull on the famous Pamplona street of Estafeta. He is said to be in a serious condition at the local Navarra Hospital Complex.
Meanwhile, a San Fermin Festival blog post says an American runner is recovering from being gored in the thorax.
Bull running in Pamplona takes place from July 7-14 and sees a number of bulls from different ranches unleashed onto the city streets. The festival also involves the killing of bulls in a series of bullfights.
READ MORE: Award-winning matador dies after being gored by bull (PHOTOS)
Friday saw scores of runners try to dodge a train of Cebada Gago ranch-bred bulls as they charged down cordoned off areas of Pamplona. The bulls are responsible for causing the highest number of injuries to runners.
A day before the festival, animal rights activists from AnimaNaturalis and PETA stripped topless and doused themselves in blood-red powder to oppose the tradition.
"In this city more than 50 bulls will be tortured to death," said Aida Gascon, director of AnimaNaturalis.
"We know that we will not be able to stop this death, but we continue and we will continue here so that those deaths do not go unnoticed."