Sicily blazes kill livestock, spark evacuation of homes & hotels (VIDEOS)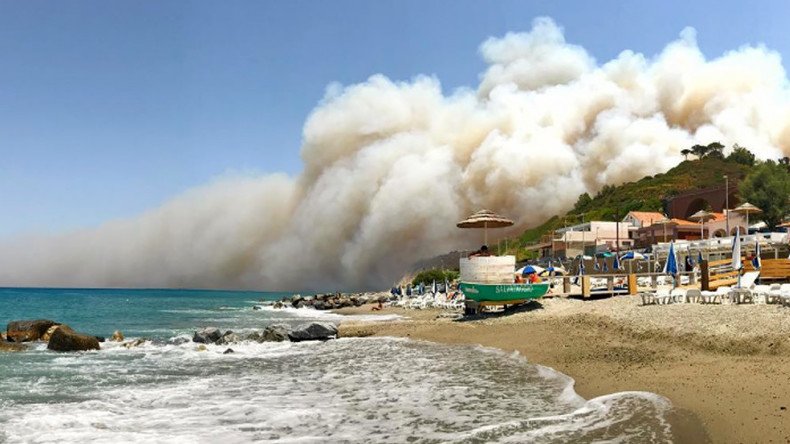 Fires in Sicily have sparked the evacuation of homes and hotels as firefighters struggle to contain the huge blazes around Italy's southern island.
The eastern area of Messina has been heavily affected with huge fires raging in Spartà.
Several cattle died when a cattle shed was engulfed in flames in Porticella near Palermo. Police evacuated dozens of homes in the area while a gas cylinder exploded in a nearby resort, La Repubblica report.
READ MORE: Rome fountains run dry as heat wave sparks 'exceptional' drought across Italy
Some 500 hectares of crops were also destroyed in Monreale, south of Palermo.
The Sicilian Fire Department worked through the night fighting the flames which destroyed a forest in San Marco, Catania, reported RAI.
Houses near the town of Chiaramonte Gulfi, in the southeast of the island, have also been damaged by the flames. Several locals have been taken to hospital suffering from smoke inhalation.
Around 50 hectares of scrubland near the town of Joppa have been left scorched and widespread fires near Tropea forced a resort to evacuate its hotel guests. Burnt olive trees strewn across the nearby motorway have made driving hazardous.
Ground units with fire trucks as well as fire department aircraft are being deployed in the push to quench the flames.
You can share this story on social media: