Robo-bartenders: Machine mixologists serve drinks 'at world's most high-tech bar' (VIDEO)
Published time: 29 Jun, 2017 15:09
Edited time: 4 Jul, 2017 07:37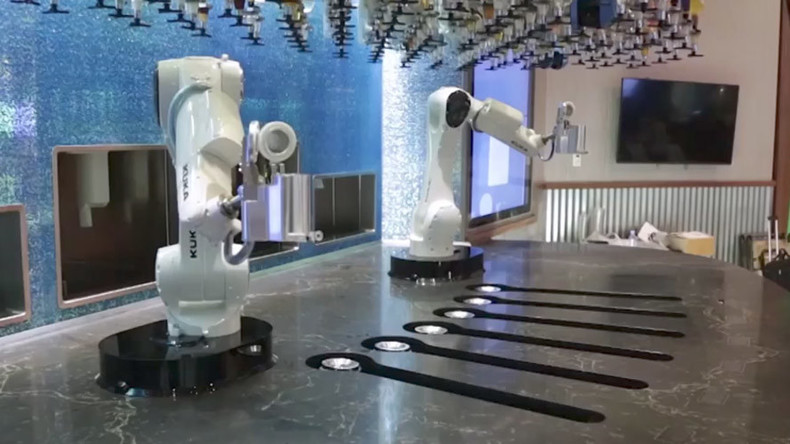 Las Vegas gamblers looking to drown their sorrows and bend the ear of their local bartender better hope that robots are good listeners.
Tipsy Robot, the world's first land-based robot bar – there is one aboard a Royal Caribbean cruise ship – will open Friday at the Miracle Mile Shops at Planet Hollywood.
The brainchild of bar owner Rino Armeni, the 2,500-sq-ft bar boasts two robotic arms that mix drinks from the 152 bottles of liquor, juice, and soda suspended overhead.
"This is the most high-tech bar in the world, as the robot can perform the duties of the bartender," Armeni told the Las Vegas Sun. "It's not just a bar — it's also an attraction and entertainment."
Using one of Tipsy Robot's 33 stations, customers choose their drink from menus of eight classic and 18 signature drinks. Each drink can be customized, or patrons can plump for an option of their own creation. After ordering, customers are sent a barcode to their phone which is then scanned into the system. They are then alerted when their drink is ready.
"I think the millennials are going to enjoy doing that," Armeni told the Las Vegas Review-Journal.
A one-shot drink will cost $14, including tax and tip. The machine mixologists will be supported by up to 12 humans serving cocktails and craft beer. Another 16 female staff, known as 'Galactica Ambassadors,' clad in space-themed metallic silver dresses will also be on hand to assist customers.
"The robots are the attraction – the people will come back for them [the employees]," Armeni said. "The human part to this is still as important as the robotics."
Prospective patrons keen to see how the technology works when fully-operational need look no further than the Quantum of the Seas, the Royal Caribbean cruise ship where it has been in use since 2014.