Race row sparked by parade float in Montreal (VIDEO)
Published time: 26 Jun, 2017 09:16
Edited time: 4 Jul, 2017 07:32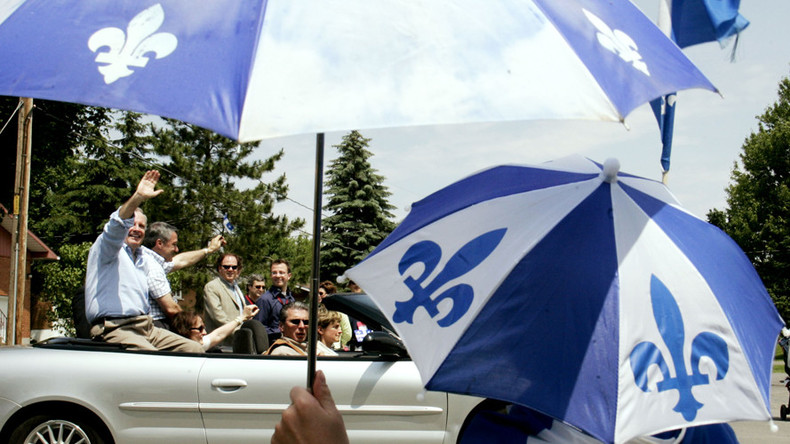 A parade float pushed by men of minority background is at the center of a row in Montreal., two white people performed on top of the float surrounded by people dressed all in white, leading to accusations that the event demonstrated a lack of diversity.
A video of the Saint Jean Baptiste Day parade filmed on Saturday shows four black men in khakis pushing the float as a white woman sings atop, accompanied by a piano player.
The camera shifts from the laboring men to the mainly white people dressed in all white accompanying the float.
Over 1.5 million people have watched the video, which has sparked a row over race.
Felix Brouillet uploaded the video to Facebook accompanied by the comment: "I'm not sure the organizers of the parade understood the concept of diversity."
"As a black Quebecer, you're expecting to go out there in the street and celebrate Fête nationale like everyone else, and what you're seeing is a representation of your actual place in society," Emilie Nicolas told CBC.
Nicolas, who is trying to get the provincial government to launch a commission into systematic racism, said the racial divide was visible throughout the parade.
Other images from the parade in which minorities can also be seen pushing floats have circulated online, including some from the Association of Muslims and Arabs for Secularism in Quebec, which claim they saw no white people pushing floats in the parade.
The parade organizers defended the floats, however, saying the people pushing them were from the Association for School Retention and the Louis-Joseph-Papineau High School Sports Team, and "not chosen according the color of their skin."
In a statement, they claimed participants were needed to manually push the floats, as the event's eco-friendliness does not permit motorized floats.