Human chain saves woman from drowning in car (VIDEO)
Published time: 25 Jun, 2017 16:27
Edited time: 4 Jul, 2017 07:30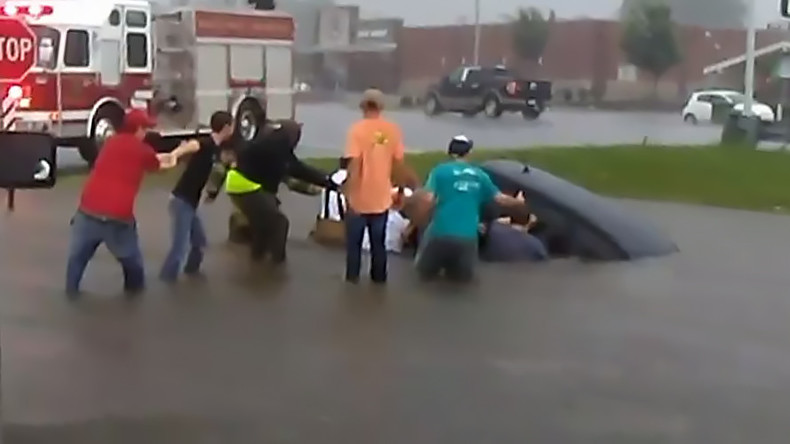 A woman was saved from drowning in floodwater after a group of Alabama locals banded together to create a human chain to pull her from danger.
The woman became trapped in her car after she stopped at a stop sign and floodwater swept the car into a drainage ditch at a parking lot in Muscle Shoals, Alabama on Friday.
"There was running water, moving water, across the roadway. When she stopped at the stop sign, the current of the water pulled her vehicle into the drainage ditch," Tommy Skipworth of Muscle Shoals Police Department told WHNT.
"If there's moving water in the roadway, you need to stop and go the other way," Skipworth added.
Quick-thinking rescuers waded knee-deep into the muddy water and formed a human chain. The first man in the chain was up to his shoulders in the water.
"We started a human chain and they were holding the car," Mike Keenum told WAFF40. "I raced in the back and got the back door open...and got her out the back door."
Kaycee Brooks Karcher filmed the dramatic rescue and shared it on Facebook. She said the car "was filling with water" and that her husband, who was part of the chain, "was at the right place at the right time."
Alabama was hit with storms and floods during the week as tropical storm Cindy reached the area.
"You don't know what's under that water," Skipworth said. "And just like it did this vehicle, it didn't matter how much the vehicle weighed. The current of the water was so strong is just lifted the vehicle up."
After the woman was rescued, the floodwaters continued to rise, almost covering the car entirely.