Successful dog bone implant paves way for 3D-printed human limbs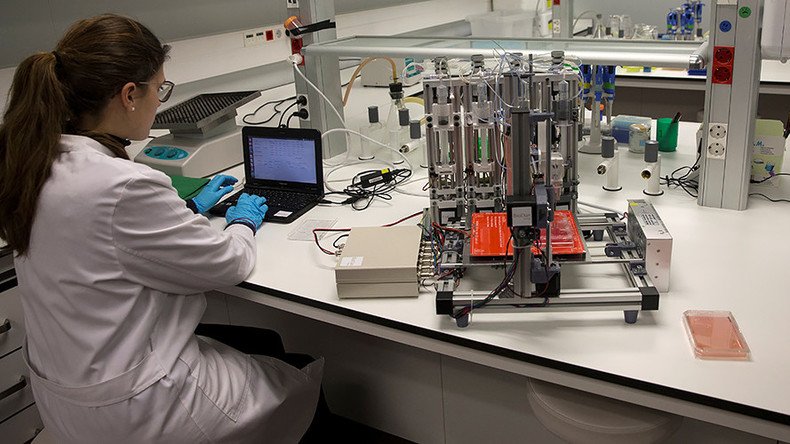 New bone regeneration technology that successfully implanted a bone in a dog's leg could pave the way for a revolutionary treatment that would see human bone implants generated by a 3D printer.
Researchers at the University of Glasgow in Scotland successfully saved a dog's leg from amputation by using medical technology funded by the landmine charity, Find A Better Way.‌
READ MORE: 'We made history': NASA launches lightest & first 3D-printed satellite, designed by Indian teen
The dog, Eva, broke her leg during a car accident and was close to needing an amputation when her vet contacted the synthetic bone research project.
Although patient trials were not due to start for a few more years, the researchers agreed to treat Eva using a combination of a naturally-occurring protein called BMP-2, combined with PEA, a common household ingredient found in paint and nail polish.
While BMP-2 is recognized as effective for stimulating the growth of bone tissue, scientists have had difficulty containing it in the relevant area.
However, project leader Professor Manuel Salmeron-Sanchez has discovered that PEA is effective in keeping the protein in position. He coated bone chips with the substance and the protein before placing the mixture in a two-centimeter gap in Eva's front leg.
The team says it's the first time PEA and BMP-2 have ever been used to treat anyone – dog or man.
PEA has never been approved for medical use in humans. Although the project is seeking approval, this could take up to five years.
Find a Better Way announced a £2.8 million ($3.58mn) financial agreement with the University of Glasgow last year with the aim of developing 3D printed limbs. The research is focused on generating synthetic bones through 3D printing, nanotechnology, and stem cell research.
Researchers have been encouraged by Eva's full recovery and are working towards their final goal – treatment for landmine blast survivors.
The treatment involves creating a 3D-printed medical-grade plastic bone scaffold, which is then covered with stem cells that generate bone at an accelerated rate, along with the BMP-2/PEA mixture. After the stem cells and BMP-2 grow bone tissue, the plastic scaffold biodegrades, leaving only the newly-grown bone in place.
The project says while the technology was initially designed to help treat landmine blast survivors, it has the potential to be used for anyone who needs new bone tissue.
You can share this story on social media: