Posse politics: Schwarzenegger & Macron join forces to troll Trump (VIDEO)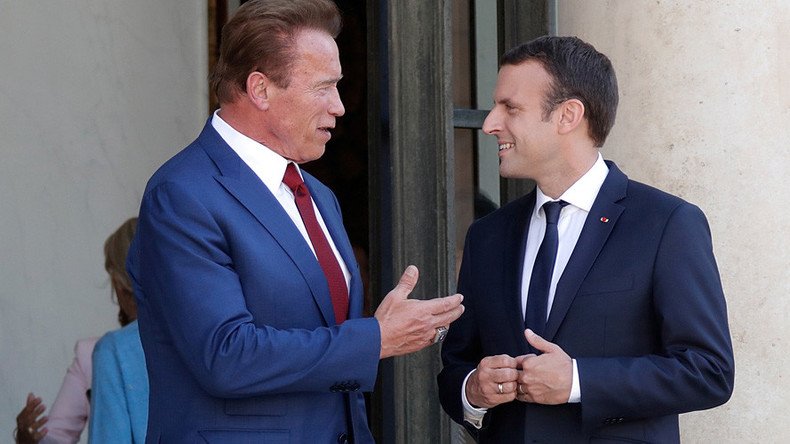 Environmental BFFs President Emmanuel Macron and Arnold Schwarzenegger poked fun at President Donald Trump's signature slogan in a trolling tirade that seen them traverse Snapchat, Twitter and Facebook.
In a video captioned: "with President Macron, a great leader!" former California Gov. turned environmentalist Arnold Schwarzenegger says he and the French president are "talking about environmental issues and a green future," before a smiling Macron leans in to deliver his totally unrehearsed: "and now we will deliver together to make the planet great again".
The challenge is an obvious play on the US president's much-used campaign slogan; "Make America Great Again," which Macron first started trolling following the White House's decision to exit the Paris climate agreement.
READ MORE: Macron ruthlessly trolls Trump over Paris Accord exit, Twitter follows

Between the unforgettable handshake-gate and 'The Apprentice' debacle, both Schwarzenegger and Macron have had their public spats with the US president since he assumed office.
The former Mr. Olympia visited Macron Friday at the Elysee Palace in Paris to discuss their environmental efforts.
The Twitter-loving Trump has yet to respond through the modern-day Burn Book that is social media.
You can share this story on social media: