Kim Dotcom trolls Obama with badass photo of Putin standing in rain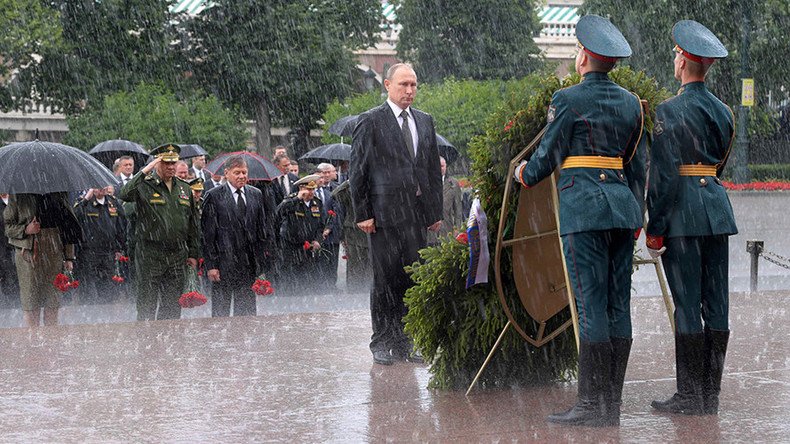 Kim Dotcom trolled former US President Barack Obama with a photo of Russian leader Vladimir Putin standing in the pouring rain without an umbrella in sight.
The internet entrepreneur, wanted by the US over the now-defunct file-sharing website, Megaupload, compared the photo to one of Obama standing under an umbrella held for him by a US Marine.
The Obama photo, taken in 2013 during a press conference with Turkish Prime Minister Recep Tayyip Erdogan, sparked controversy at the time as some observers pointed out it was against regulations for male marines to hold umbrellas.
Dotcom, a vocal critic of Obama, took the opportunity to highlight again the moment after a photo of Putin braving the rain during a wreath-laying ceremony on the Day of Memory and Sorrow emerged on Wednesday.
READ MORE:Putin ignores pouring rain to lay wreath on Day of Memory and Sorrow (VIDEO)
Twitter users responded to Dotcom's tweet by sharing other badass photos of the Russian leader, known for his macho persona.
Others, however, defended Obama sharing a picture of him walking in the rain without cover, comparing it to a photo of current President Donald Trump holding an umbrella.
Dotcom's tweet garnered more than 2,500 retweets, causing the Twitteratti to post several snaps of other world leaders with and without umbrellas.
Kim Dotcom is accused of criminal copyright infringement and other charges, such as money laundering, racketeering and wire fraud, by the US Department of Justice.
In 2012, New Zealand authorities raided his mansion as part of the American-led global shutdown of his Hong Kong-based file sharing company.
Earlier this year a New Zealand court ruled that he could be extradited to the US. Dotcom is appealing the decision.
You can share this story on social media: