Putin ignores pouring rain to lay wreath on Day of Memory and Sorrow (VIDEO)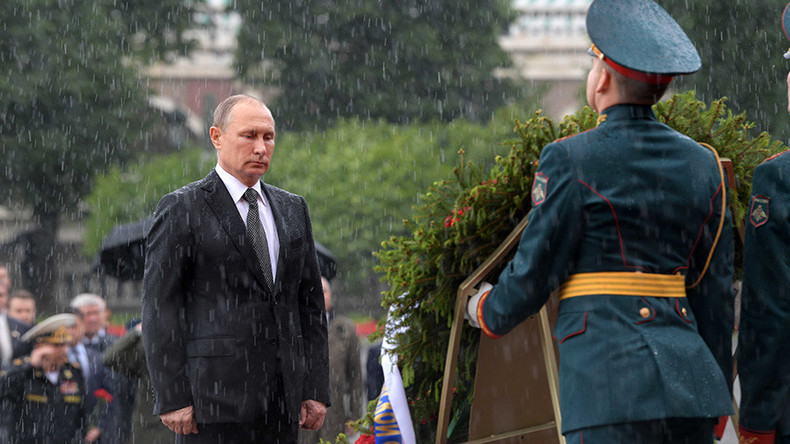 Pouring rain did not prevent Russian President Vladimir Putin from taking part in a wreath-laying ceremony on the Day of Memory and Sorrow, which marks the beginning of the Great Patriotic War against the Nazis.
The wreath-laying took place on Thursday at the Tomb of the Unknown Soldier in the Alexander Garden outside the Kremlin in Moscow.
It was attended by President Putin and other high-ranking officials, including Prime Minister Dmitry Medvedev and Federal Council Speaker Valentina Matvienko.
The ceremony proceeded according to schedule despite heavy rain starting shortly beforehand, and none of the officials having an umbrella.
June 22 is the Day of Memory and Sorrow in Russia, marking the beginning of the Great Patriot War of 1941-1945.
READ MORE: Russian MoD declassifies docs on Soviet Union's preparedness for 1941 Nazi invasion
On that day, Nazi Germany launched an unannounced attack on the Soviet Union, triggering the bloody four-year conflict, in which the USSR lost 26 million lives.
You can share this story on social media: