Long lost diary may hold key to unearthing 'eighth wonder of the world'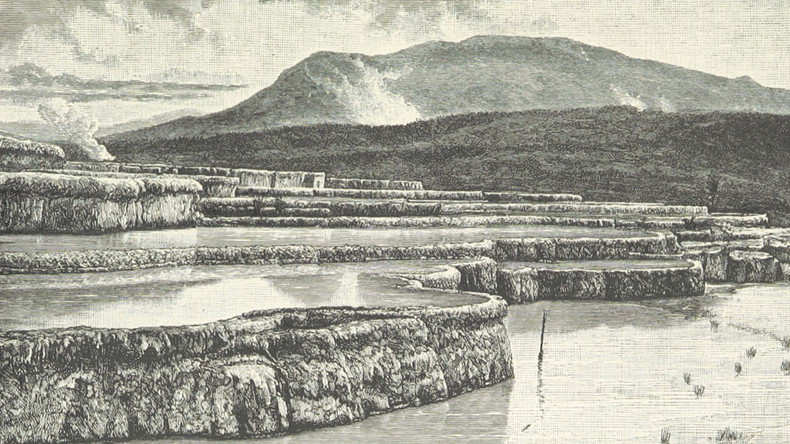 In events reminiscent of the plot of an Indiana Jones adventure, two researchers believe the discovery of a historic diary may be the key to finding New Zealand's mysterious Pink and White Terraces – the fabled 'eighth wonder of the world.'
Made up of large mounds of silica deposits, the terraces were once a feature of the Lake Rotomahana region until a massive volcanic eruption at Mount Tarawera in 1886 purportedly changed the area's landscape forever.
READ MORE: 7.0mag earthquake rocks Mexico's southern state of Chiapas (PHOTOS)
Now, the discovery of a field diary belonging to Swiss geologist Ferdinand von Hochstetter may provide a way to uncover the pink hued springs that were once renowned among indigenous people for their healing qualities.
A new paper by researchers Rex Bunn and Dr Sascha Nolden details how the Swiss geologist's 1859 etchings of the area has helped them "plot the lost terrace locations."
Von Hochstetter's diary was discovered by Nolden in 2010 and contains survey drawings for Lake Rotomahana that pre-date the Mount Tarawera eruption.
Violent and unexpected, the volcanic eruption of Mount Tarawera on June 10, 1886, was one of New Zealand's greatest natural disasters.

— New Zealand Global (@NZGlobal) May 8, 2017
"The coordinates for the spring platforms appear to lie ten to fifteen meters underground, around the shores of the new Lake Rotomahana, a water-body filling the eruption crater and some ten times the area and depth of the original lake,"reads the paper, which has been published in the Journal of the Royal Society of New Zealand.
Nolden and Bunn say they now have enough knowledge to recommend digging 10-15 meters (30-50ft) underground to find the terraces.
Studies in the years after the massive 1886 eruption suggest the power of the volcanic explosion shifted the topography of the northern New Zealand region and formed a new larger Lake Rotomahana.
Volcanic debris is thought to cover the terraces, which are described in the Journal of Volcanology and Geothermal Research as "iconic" silica sinter deposits that were treasured by Maori tribes for their "majestic appearance".
According to last year's study led by geologist Cornel de Ronde, the White Terraces were originally located 100 feet above the old lake and were formed by cascading thermal waters.
The pink coloring of some terraces, situated on the western side of pre-1886 Lake Rotomahana, may have been caused by the presence of certain microorganisms.
The study states the local tribes referred to the formations as a "taonga" or treasure "because of the therapeutic qualities of the waters and their majestic appearance."