What a time to be alive! World's longest pizza stretches almost 2km (VIDEO)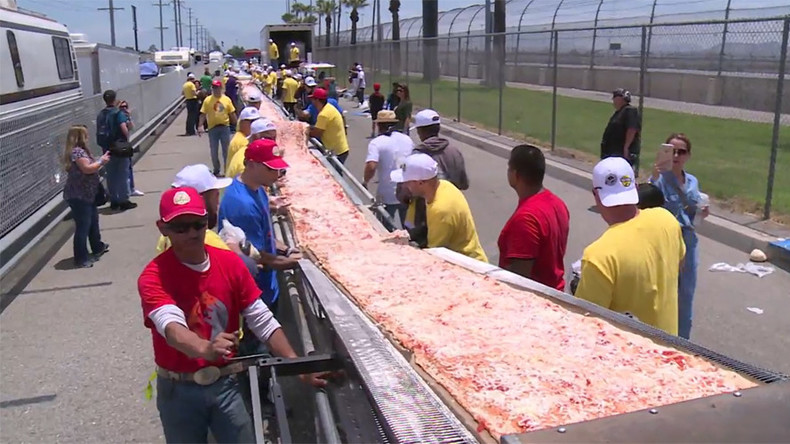 A group of dedicated pizza lovers banded together and triumphed over adversity to create a modern wonder of the world, of sorts, with a truly gigantic pizza that could easily feed hundreds.
The army of pizza pioneers and volunteers descended on the Auto Club Speedway in Fontana, California on Saturday morning to begin the challenge of constructing, and cooking, a pizza that ultimately measured 6,333 ft. (1.93 km) in length, as certified by representatives from the Guinness World Records.
Organizers had set a rather ambitious goal of 7,000 ft. (2.1 km) but the 6,333-ft. pie was enough to seal the official Guinness World record.
READ MORE: Slice of luck: Man on free pizza quest saved after almost freezing to death on Arizona mountain
On the official event website, organizers estimated that, for the 7,000-ft. pizza, the sauce would weigh about 5,600lbs (2,540kg), and the cheese would weigh about 3,600lbs.
The estimated total weight of the pizza was approximately 17,000lbs.
In order to cook the pizza, the volunteers deployed a special oven which travelled at a blistering speed of 17 feet per minute, operating a temperature of approximately 700 degrees Fahrenheit (371C).
The assemblers were rotated every 90 minutes, so they could take breaks and move to other areas where they were needed.
The organizers added some toppings to the last 1,000 feet of the pizza for variety.
Such a monster pizza required some serious support, with organizer Melanie Pacheco of Italforni USA confident the table was almost as impressive as the pizza itself.
"At-Pac Scaffolding will be building what we believe to be the longest scaffold ever built in the world. So that will be exciting to see as well," Pacheco told the Fontana Herald News before the event.
Volunteers could grab a slice or two, but the majority of the pizza was donated to local homeless shelters and food banks.
The previous record was achieved by Napoli Pizza Village in Naples, Italy on May 18, 2016 with an impressive 6,082-foot, 3.4-inch (1.8 km) pizza, according to the official Guinness World Records website.