'The whole town is burning': Deaths, mass evacuations as fire sweeps Western Cape (VIDEOS, PHOTOS)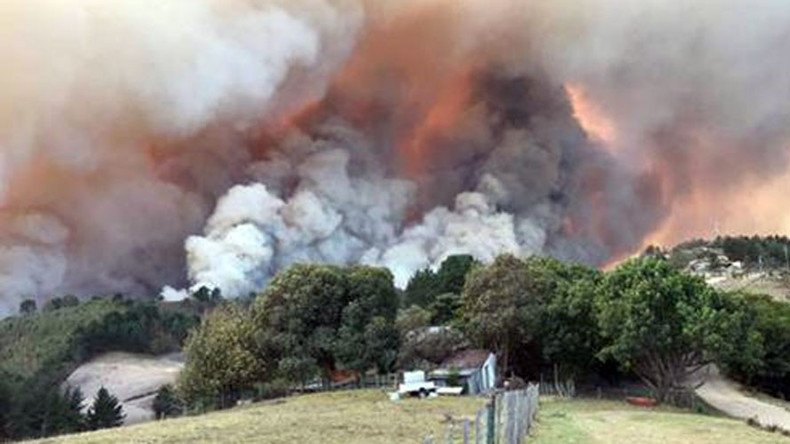 Eight people are dead and 10,000 have fled their homes as an enormous fire sweeps through the town of Knysna, South Africa.
Numerous homes have been gutted by the blaze that started on Tuesday and grew rapidly when a storm passed over the Western Cape town.
Western Cape local government spokesman James-Brent Styan confirmed in a statement that up to 10,000 evacuations had taken place in the town of 77,000 residents.
"The fire in Knysna is the largest and most destructive fire in a built-up area in the Western Cape in recent memory with thousands displaced. It comes on the back of the worst storm seen in the Western Cape in at least 30 years'" Styan said.
That sentiment was echoed by the town's mayor' Eleanore Bouw-Spies, who told Herald Live: "These are the worst fires I have seen in the 45 years I've lived in Knysna."
Eight people were killed by the blaze, according to Reuters. Knysna fire chief Clinton Manual said there was little hope of stopping the fire and officials would continue evacuating all those in its path.
"The fire began on the one side but is now spreading to the other side of the town and the hospital is on fire. Basically the whole town is burning'" journalist Ivo Vegter said to Times Live.
City of Cape Town Disaster Management spokesperson Charlotte Powell said more than 800 families were homeless on Wednesday due to the storm.
Reuters reports that thousands of people in shanty towns, who endured the region's worst drought in a century, are hardest hit by the blaze, as floods and heavy rain washed away homes built of planks and zinc sheets.
You can share this story on social media: