Estonia to Finland in just 8 minutes: Hyperloop One unveils 9 proposed European routes (VIDEO)
Published time: 7 Jun, 2017 21:44
Edited time: 4 Jul, 2017 06:51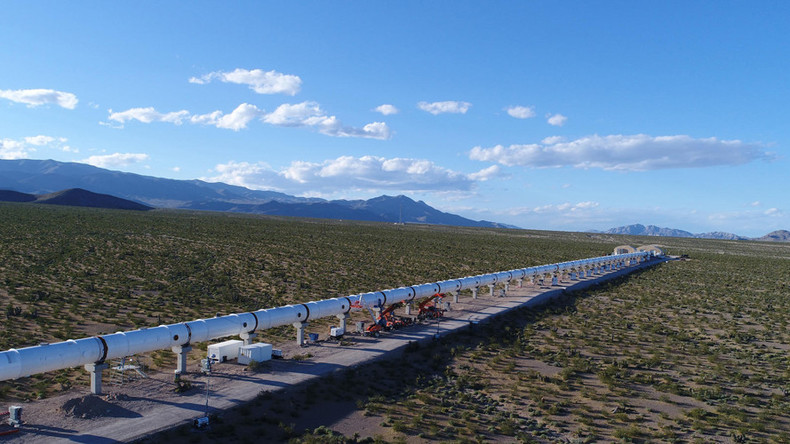 Hyperloop One has unveiled nine possible routes for futuristic high speed travel across Europe, including a 90 kilometer journey across the Baltic Sea linking Estonia to Finland in just eight minutes.
The ambitious projects shortlisted for the Hyperloop One Global Challenge were revealed at its Vision for Europe event in Amsterdam, Tuesday.
The proposed routes span over 5,000 kilometers, connecting over 75 million people in 44 cities, according to a Hyperloop One statement.
The nine semi-finalists were selected from over 2,600 submissions due to their technical feasibility and economic viability.
READ MORE: No more planes? Hyperloop test facility unveiled in Netherlands
Of the routes shortlisted, several cross water, including, the proposed Hyperloop One journey from Tallinn to Helsinki which covers 90 kilometers in eight minutes. This is the shortest of the potential European journeys, followed by a 415 kilometer trip from Warsaw to Wroclaw in Poland in 37 minutes.
A full circle of the Netherlands is expected to take a mere 41 minutes while a sweeping 1,991 km trip of Germany linking many of the country's major cities, including Berlin, Munich, Cologne and Hamburg is poised to take just 142 minutes.
Another suggested location for a Hyperloop track connects the Mediterranean islands of Corsica and Sardinia, situated 451 kilometers apart.
The only route that would leave the bounds of Europe is the 629 kilometer route linking Spain with Morocco, in North Africa, starting in Madrid and ending in Tangier.
Three proposed routes for the UK have made the shortlist – one connecting Scotland and Wales, another covering the northern arc from Glasgow to Liverpool and a third linking Edinburgh to London in just 50 minutes. An average train journey between the two cities takes 4 hours and 40 minutes, according to Trainline.
The Hyperloop transport system was first proposed by billionaire inventor Elon Musk, who described it as a cross between a train and a plane. Passengers and cargo are loaded into a pod and accelerated gradually via electric propulsion through a low-pressure tube.
The pod quickly lifts above the track using magnetic levitation and can glide at airline speeds for long distances due to extremely low aerodynamic drag, according to the company.
In April, Hyperloop One unveiled 11 potential routes being considered for their high-speed transport system in the US. Among the proposed routes was Los Angeles to San Diego in less than 13 minutes.
Routes in Canada, Australia, India, China, South Africa, Mexico, South Korea, Israel and Argentina have also made it to the shortlist. All potential routes will be assessed by an international panel of judges to determine the first Hyperloop routes on Earth.