CNN host accused of making racist comment to Indian American Spelling Bee winner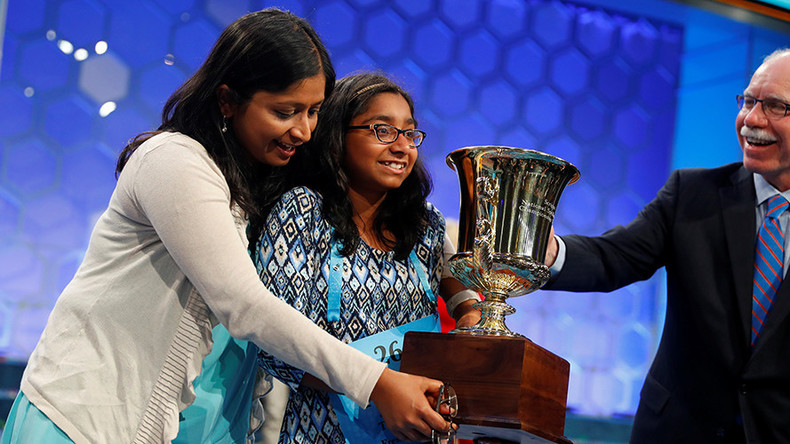 CNN anchor Alisyn Camerota is under fire from the Twitteratti after making the assumption that the 12-year-old winner of the Scripps National Spelling Bee, who is of Indian descent, was "used to using" Sanskrit.
Camerota was interviewing America's new spelling bee champ, Ananya Vinay, alongside co-host Chris Cuomo on the New Day program, when she decided to set her a task.
"We have a challenge for you… do you know the word covfefe?" she asked, referring to Trump's notorious tweet typo.
Vinay asked for the definition, which Camerota explains as "a nonsense word made up by the 45th president of the United States in a late night tweet."
READ MORE: Trump tweet mystery: President's #Covfefe message triggers troll tsunami
When the spelling bee champ asks for the language of origin for the word Cuomo responds "gibberish."
After Vinay misspells the word, Camerota consoles her by saying: "Again it's a nonsense word – we're not sure that its root is actually in Sanskrit which is what you're probably used to using, so I don't know, anyway."
Vinay doesn't respond to the remark while Cuomo intervenes to praise the young girl's achievements.
Camerota's "ignorant" remark has been slammed on Twitter as "racist."
Sanskrit is an ancient language, linked to Hinduism, that is rarely spoken today but is used as a ceremonial language in Hindu religious rituals and Buddhist chants.
A CNN spokeswoman defended Camerota's comment, saying it had nothing to do with the girl's heritage and was a continuation of previous jokes the TV host made about Sanskrit being the origin of 'covfefe,' according to the Washington Post.
"To assign a bias to what was a fun and innocent segment celebrating Ananya Vinay's incredible accomplishment is frankly extremely cynical," the spokesperson reportedly said in the statement
Ananya, who is of Indian origin, was born and raised in Fresno, California. She is the 13th Indian American child to win the competition. An Indian-American child has won the spelling bee competition every year since 2008.
READ MORE: CNN introduces new definition of suspicious activity: Dating Russians