Snap out of it: Swiss village to lift photography ban after going viral
Published time: 2 Jun, 2017 17:05
Edited time: 2 Jun, 2017 17:07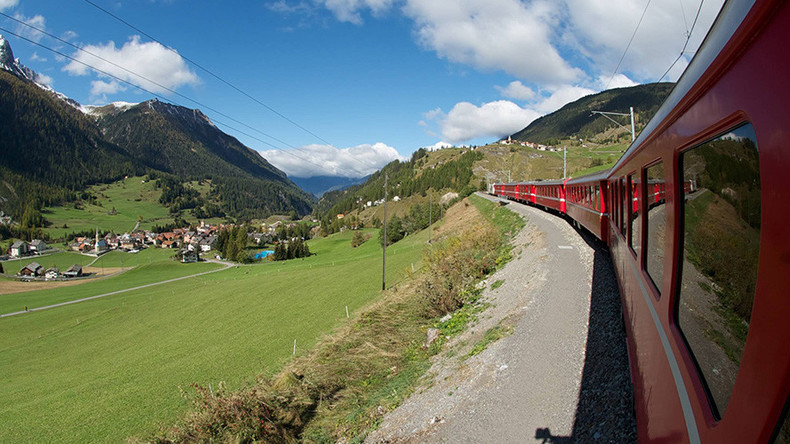 The Swiss village of Bergun is lifting its ban on taking photos of its stunning scenery, just two days after announcing it. The ban provoked a huge media storm, with pictures of the mountain village "becoming more popular than ever."
"The beauty of our village has become world-famous thanks to our friendly photography ban. Millions of people around the world have shown interest in Bergun over the past two days. That makes us very proud," the village's mayor, Peter Nicolay, says in a video message.
A municipal assembly came up with the short-lived ban earlier this week. The official reason was that people who see pictures of Bergun online would become depressed at not being there.
READ MORE: Don't say cheese! Swiss village bans photos of scenery to avoid upsetting people who can't visit
Instead of looking at photos, the mayor invited everyone to come and visit to experience the beauty with their own eyes.
On Thursday, though, the commune opted to lift the ban, issuing a "friendly special permit" for all visitors who bring along their cameras. The mayor then reassured people the ban would be fully lifted at the next gathering.
"Our village is so beautiful that it's impossible to take a holiday photo that isn't beautiful," the mayor brags in the video, saying he understands why everyone wants to capture local landscapes.
Speaking against a picturesque backdrop, the mayor boasts about what his village has to offer: flowers, mountains, streams, old streets, cows and clouds.
"Now you can snap away," Nicolay said, but warned visitors "to think carefully" before they share the pictures online so that "nobody will be unhappy because they can't be here right now."
"The commune never thought this initiative would generate so much media interest," he said, while admitting that there was a PR motive behind the ban.
"The photography ban is a marketing action with a big pinch of humor."
Bergun/Bravuogn, which carries a double German and Romansch name, is a small village in the Graubunden canton. Situated an hour away from the luxurious alpine resort of St. Moritz, Bergun/Bravuogn has some 700 residents.