'Chemical snowfall': Toxic foam causes mayhem on busy Bangalore street (VIDEO)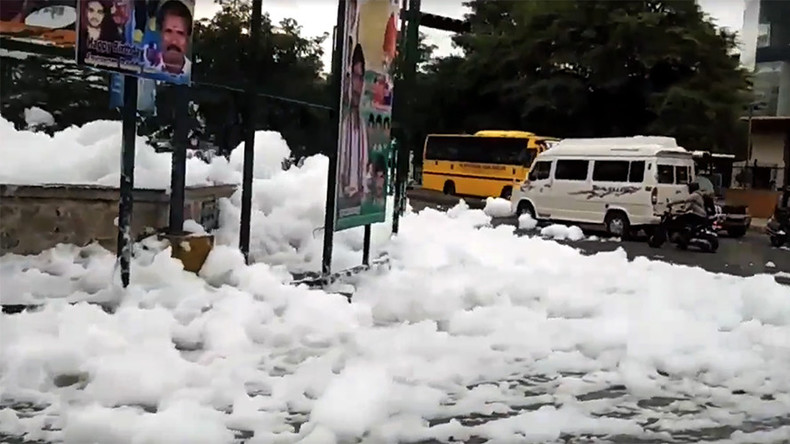 Commuters in India are being forced to drive through large clumps of foul-smelling froth as local officials try to stem the flow of chemical foam rolling off Bangalore's Varthur Lake.
The event, which has been dubbed a 'chemical snowfall', occurred after pre-Monsoon showers whipped the surface of the sewage-ridden lake into a foam. Heavy winds then lifted the toxic froth over a wire mesh fence onto Varthur Kodi Junction, a busy commuter area, over the weekend.
Locals say the foam is disrupting traffic in the area, with the clumps entering the helmets of motorcyclists and coming into contact with the skin of drivers.
Responding to criticism of the city's response to the incident, Siddaramaiah, the chief minister for the state of Karnataka, told NDTV: "The concerned minister as well as the BBMP [Bangalore's municipal government] are taking care of it. There's no problem. We received unprecedented rainfall this year. We will solve it. It happens every year."
Bangalore Development Minister KJ George visited the area on May 26 and reportedly made assurances to residents that the government would find a solution to the frothing problem.
Speaking to the Bangalore Mirror, local man Raman TV revealed the frustrations of Bangalore residents.
"The sorry state of Varthur and Bellandur lakes only attains prominence when there is frothing," he said. "The issue then goes viral on social media. Those residing in the area also have to suffer mosquito bites and stench that emanates from the lake. But every year, complaints to the authorities yield no result."
Pollution in Bangalore has become an increasing problem in recent times.
Untreated effluents flow into the waters from homes and industries on the banks of the lake daily. Illegal dumping is also rife with some reports claiming that people are dumping rubbish that has already been set on fire.
Earlier this month, parts of nearby Bellandur lake caught fire after an attempt by local cattle herders to scorch a patch of ground ignited the layers of vegetation as well as industrial and domestic waste on the surface of the water.
The 900-acre lake also caught fire in February, burning for 12 hours and leaving a black patch in the center, according to some eye-witness accounts.