'World's first' bionic fish drone makes waves with Kickstarter success (VIDEO)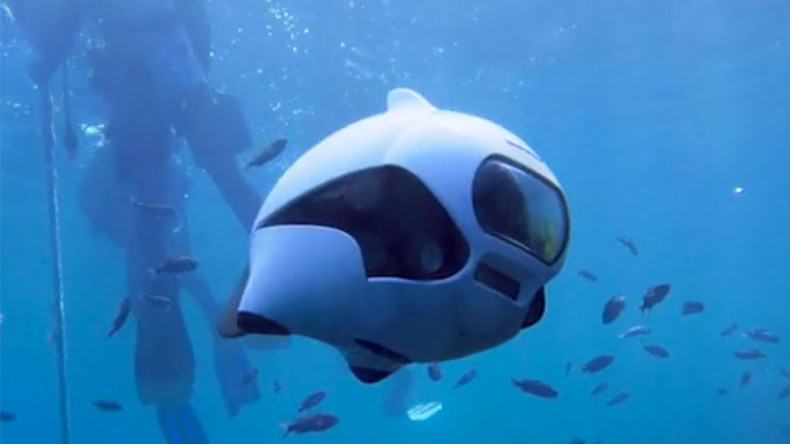 A mini underwater camera drone designed to look like a fish has reached its $20,000 Kickstarter investment goal in less than 24 hours.
Dubbed the first 'bionic fish drone', the wireless BIKI, comes equipped with flapping snapper-like fins.
The bizarre creation by Robosea – which manufactures equipment for "pollution regulating robots" – BIKI has a 4K camera and can be operating via a mobile device.
READ MORE: Charles Lindbergh Foundation's AI drones fighting animal poachers (VIDEO)
According to its Chinese creators, the "intelligent robot fish" is designed to swim to a depth of about 59 meters (200ft). The robotic fish is also programed to return to its launch site when low on battery.
A $20,000 Kickstarter for the device was started Monday and raised more than $35,000 in 24 hours.
Robosea is offering five versions of the drone and "waterproof bags" to people who donate $2,699 or more.
"BIKI can maneuver just about anywhere," said Robosea CEO, Minglei Xiong.
"You can also design your own routes and, if transmission is somehow lost, it will automatically return to base – all the while sending its real-time location to your mobile device."
READ MORE: High-tech angling? Underwater drone lures fish with blue light (VIDEO)
The device is similar to the PowerRay, a submersible which made waves at January's Consumer Electronics Show in Las Vegas.
Launched as a fishing aide for anglers, the drone is fitted with a blue "fish luring light". The PowerRay can also drop bait remotely, according to manufacturer PowerVision.
You can share this story on social media: